Read time:
---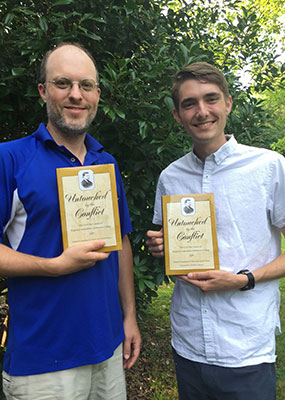 Dr. Jonathan W. White, associate professor of American studies, and his former student, Daniel Glenn '19, have released a book that provides rare insight into college life during the Civil War.
Untouched by the Conflict reproduces the letters of Singleton Ashenfelter, a student at Pennsylvania's Dickinson College during the Civil War.
White and Glenn, professor and student, worked together for two years on the book, transcribing the letters, editing their work and figuring out the identities of the people referenced in the letters.
Glenn graduated in May 2019 with bachelor's degrees in American studies and political science and now attends the Marshall–Wythe School of Law at the College of William & Mary.
He and White worked together in 2016 through Christopher Newport's Summer Scholars program, during which White approached Glenn about the project. White has collaborated with students before on over two dozen article-length projects, but Untouched by the Conflict is his first book-length student collaboration.
"Daniel is very diligent and hardworking, and it was a lot of fun for us to do the detective work of figuring out difficult words or identifying obscure people," White says. "One of my real joys as a professor is helping students learn how to do archival research and then teaching them how to write papers that they can turn into publishable articles."
For Glenn, writing and editing Untouched by the Conflict alongside White helped shape the way he writes, researches and simply approaches learning.
"I think the most important practical skill I learned was how to conduct research," he says. "My work with Dr. White taught me how to use microfilm, newspaper databases and the National Archives to answer the research questions. Now, I am in law school, and my research calls for different tools. Yet the underlying mindset is the same. The research skills I learned through editing the Ashenfelter letters will carry on into my legal career."
In Untouched by the Conflict, the letters sent between Ashenfelter and his best friend dive deeply into the personal and emotional life of a young college student, while also giving an important perspective of what a liberal arts education was like in mid-19th-century America. They also paint a wonderful portrait of a friendship between two young men who decided to stay on the home front, rather than fight, during the Civil War.
"Although a century and a half separate us, I feel that Singleton Ashenfelter and I have almost gone through college together," Glenn says. "I began reading his letters right after my freshman year – at about the same age as Ashenfelter was when he began writing them in earnest. 'Sing's' personality emerges so powerfully in his letters that I almost feel he was one of my peers."
Added White: "There are very few collections of letters that give such a detailed portrayal of what the Northern home front was like during the Civil War, and I don't know of any other books of college students' letters. Readers will find a rare view of the Civil War in these pages."
It is familiar territory for White. He is one of the nation's foremost experts on Abraham Lincoln's life and leadership, and is the author or editor of nine books and more than 100 articles, essays and reviews about the Civil War. He is a recipient of the 2019 State Council of Higher Education for Virginia Outstanding Faculty Award.
---