Read time:
---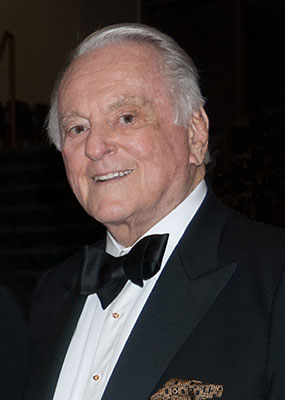 "A founding father" - Alan Diamonstein (1931-2019)
With the death of Alan Diamonstein on October 17, Christopher Newport lost one of its most ardent and effective supporters.
Here is President Trible's message to the community followed by a link to a full and fascinating story of Diamonstein's life.
"Christopher Newport and Virginia have lost a great leader this week. Alan Diamonstein died at the age of 88 years old.
We will all dearly miss Alan. He was truly one of the founding fathers of the modern Christopher Newport University. As a respected and influential member of the House of Delegates for 34 years and as a friend and enthusiastic supporter of the University, Alan's contributions are everywhere on our beautiful campus – most especially the Alan and Beverly Diamonstein Concert Hall that so enriches the life of our community and commonwealth.
As much as we will miss his support and encouragement, we will also miss his kind friendship. A few years ago, Alan was asked his greatest hope and he replied: 'That people understand each other, appreciate each other and work with each other.' In every aspect of his long and remarkable life, Alan worked tirelessly to make that wish a reality. Rosemary and I and Christopher Newport have lost a cherished friend and our world has lost a wonderful human being.
There will be a celebration of Alan's life in the Alan and Beverly Diamonstein Concert Hall in the Ferguson Center on Sunday, October 20, at 1:30 p.m."
The obituary notice is available at the link below.
---