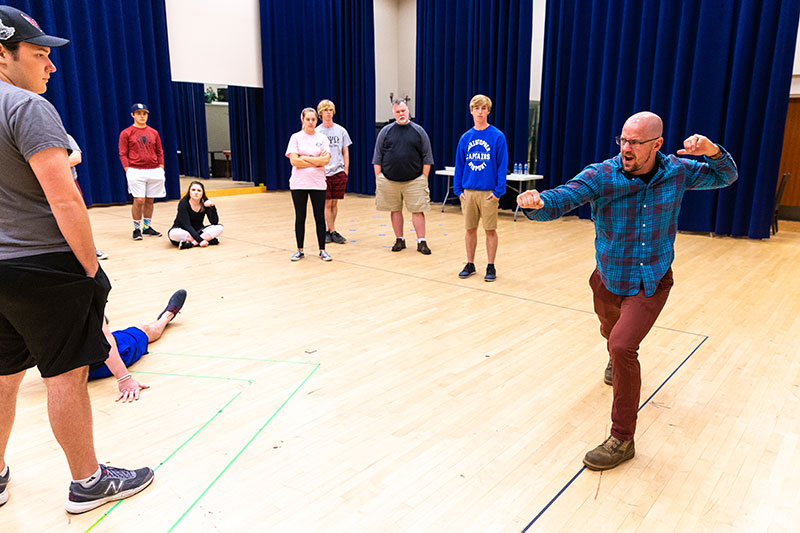 Read time:
---
Greg Poljacik '05, smartphone in hand, directs the scene.
Two students – good guy versus bad guy – square up, ready to fight.
Poljacik lines them up with the perfect angle on his phone's camera, projecting the image on a large screen. Now the entire Introduction to Stage Combat class can follow along. He presses record and cues them with a dramatic "action!"
They replay the scene a few times, working on different points of view to best show the moves on screen. With rapt attention, the class watches was Poljacik points out the best angles to sell a punch or make a hit look real.
The class is just one of Poljacik's contributions to his alma mater over a weeklong visit. He assists with rehearsals for the upcoming production, Hearts Like Fists; teaches two combat classes; and shares with students his story of living and working as a performer.
Poljacik graduated from Christopher Newport in 2005 with a bachelor of arts in fine and performing arts. Since then, his path has wound from actor to choreographer to stunt performer to founder and CEO of a company that manufactures fake stage blood.
In the 14 years since graduation, Poljacik has trained thousands of students and professionals worldwide, provided award-winning choreography for over two dozen theater companies in Chicago and has over 60 credits for film and television work.
During a presentation to students, Poljacik dishes out advice about headshots, reels, auditions, social media and more. He explains how connections gained through Christopher Newport and specifically Gregg Lloyd, associate professor of acting and stage combat, set him up for success.
He planned to be an actor after graduation, he says, but he veered in an unexpected direction, becoming a stunt performer instead. Poljacik, a fan of fire, is able to set himself aflame on camera; fall and jump from heights and perform hand-to-hand combat. His work can be seen in the film Divergent, television shows "Chicago P.D." and "Chicago Fire," among others.
His Christopher Newport education helped him gain the abilities needed to be able to diversify his skillset and be a team player. For example, when he realized there was a niche to be filled with both non-toxic and completely washable stage blood, he spent a year developing a formula that he now sells through his company.
"I can't fully say how much I appreciate what this program did for me," Poljacik tells a room full of students. "I see it as every year it builds, and I become more appreciative of it the more I see performers who didn't have what we had here. I get a lot of my jobs because of the foundation that was built here. That's the honest truth."
Lloyd likens Poljacik's return to a full circle; his student has now become the master.
"It is a special treat to have him available to talk to our students and share both his knowledge of the industry and life as an artist, to inspire them and to assure them that what they are learning and experiencing here at Christopher Newport will serve them well, whether they choose a life in the arts or elsewhere," Lloyd says.
"The students were excited and energized by his words and his example." Lloyd says. "Greg's talent, vision and work ethic are helping to give Hearts Like Fists the potential to be something never before seen on a Christopher Newport stage."
Hearts Like Fists is a graphic novel for the stage; superheroes will battle the lethal Doctor X throughout the adventure, necessitating realistic fight sequences. They're choreographed by Lloyd, who is directing the show, and by Poljacik.
The audience will be keenly aware of how the student actors are feeling as they take those punches, thanks to Poljacik's training.
"You have to ham it up. You indicate in some ways, because you have no other way of showing what hurts," as he groans and scrunches his face at a gut punch. "I gave a buffet for the audience to choose from. The hard part is learning on stage and on cameras what's too much"
See Hearts Like Fists at the Ferguson Center for the Arts Nov. 15-17 and 22-24. Click the link below for more information.
---