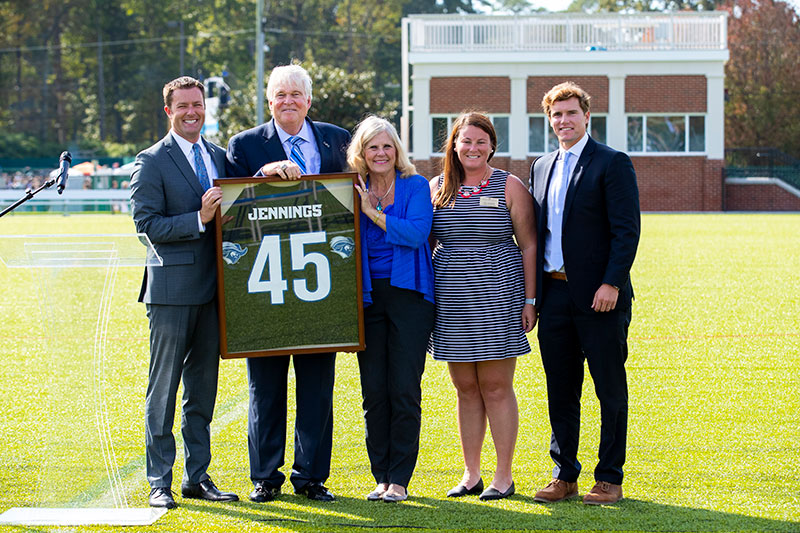 Read time:
---
The Jennings family celebrated the opening of a stadium named in their honor and topped it off with a goal.
Bruce and Laurie Jennings and their family have contributed to the academic and athletic lives of Captains for many years. Jennings Family Stadium is named for them.
"Christopher Newport University inspires hope, meaning, purpose and generosity. That's why I support Christopher Newport. It's a magical place. All of those words have more significance and meaning to me here today," said Bruce Jennings.
The turf facility serves as the home for Captains field hockey and lacrosse.
"This beautiful turf field, under the lights, is used constantly by the Christopher Newport student community. Intramurals and all kinds of activities take place here," said President Paul Trible. "Today we gather to honor the Jennings family. Bruce and Laurie, Kylene and Kendall Jennings have been strong and generous supporters of our academic and athletic programs at Christopher Newport."
Since the conclusion of competition during the 2018-19 athletic campaign, Captains Turf Field underwent dramatic construction to achieve a state-of-the-art upgrade.
The Captains opened the 2019-20 year with a re-oriented facility adjacent to TowneBank Stadium. Accounting for a decrease in sun interference, the new turf field has a north-south orientation with a 40 percent increase in field dimensions.
Bruce and Laurie Jennings and their family are woven into the life of Christopher Newport. Their daughter Kylene was a four-year member of the women's lacrosse team and graduated in 2008.
In 2013, Bruce Jennings was appointed to the University's highest governing body, the Board of Visitors, and chairs the Finance and Audit Committee.
In 2015, Bruce and Laurie Jennings established the University's first endowed professorship. Created in memory of Bruce Jennings' parents and bearing their names, this professorship supports the dean of the Luter School of Business.
Trible, Bruce Jennings, Director of Athletics Kyle McMullin and Catie Chess '18, an alumna and now assistant coch of the women's lacrosse team, thanked the Athletic Advisory Council for leading the fundraising for the completion of the stadium. Over two dozen donors were recognized during the ceremony.
Though field hockey season is well underway, the field was properly broken in during the morning as a women's lacrosse alumni team took on the current roster. Naturally, Kylene scored yet another goal in her career, but this time as a Captain for Life.
---