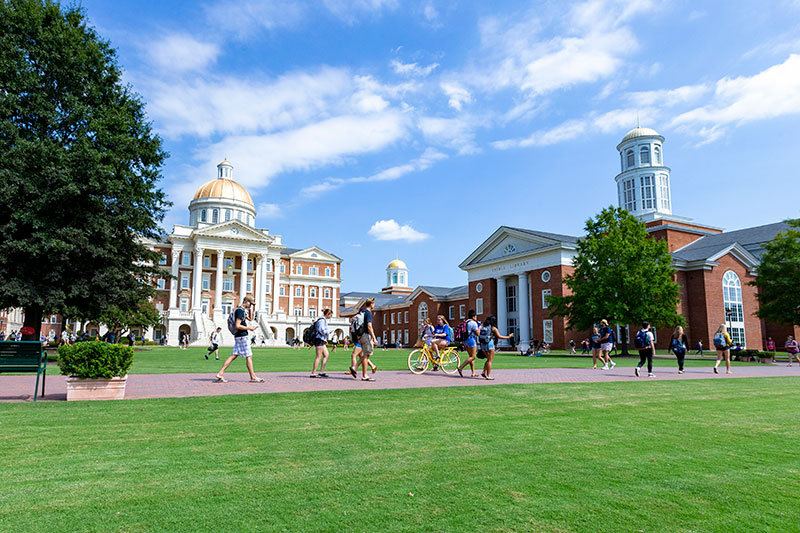 Read time:
---
The Alpha Chi Honor Society at Christopher Newport University has announced its 2019 inductees and it is a long list of accomplished students.
Since its charter at Christopher Newport in 1977, Alpha Chi has annually recognized the top 10 percent of juniors, seniors and graduate students in all fields.
Dr. Jay Paul, Honors Program director, has served as Alpha Chi's sponsor since 1989. "The GPA to be invited was a 3.25 back then, but since the school grew and improved, it is now a 3.7," Paul said. "It's an elite group of people."
The list of newly inducted Honor Society members is below.
Rachel Applebach
Sarah Badertscher
Emily Baer
Jordan Beamer
Claire Beaulieu
Courtney Botkin
Jacqueline Bowers
Catherine Bowling
Michael Bradley
Georgia Bransford
Alexis Brewer
Austin Brown
Ashley Burgess
Amelia Burkley
Andrew Chafin
Alexandra Chalkley
Cydney Clark
Conner Clark
Sydney Claud
Trevor Cogan
Rachel Cooke
Ciara Coward
Madelaine Crabtree
Shelby Crahan
Emily Crawford
Raahkema Cropper
Hannah Croyle
Juliana Dalton
Caroline Daniels
Isabel Danstrom
Lauren Davis
Nicholas DeHoust
Alese Devin
Erica Deyesu
Connor Dolan
Alison Dombrowsky
Amy Doody
James Duffy
William Dzubak
Kendal Earley
Haley Eiser
Tatiana Elizarova
Caroline Ernst
Lillian Ervin
Kara Ferner
Melody Fleming
Elena Flester
Regan Flieg
Kayla Forosisky
Ahmad Frej
Sarah Gaston
William Geisler
Avery Gibson
Peter Glenn
Katherine Goida
Sarah Goldsmith
Grace Goode
Arianna Gordon
Caroline Grass
Alexandra Green
Anne Haley
Catherine Hall
Mariam Hammad
Danielle Hawkins
Kayla Hearl
Michael Hemmer
Jake Herzog
Emily Hewett
Katherine Hicks
Alissa Hinz
Sabrina Ho
Elizabeth Hodges
Theodore Hoffmann
Madeline Holladay
Beverly Hollberg
Katherine Horenstein
Nathan Hotes
Shiloh Houseworth
Melina Hoyos
Daniel Hulett
Kathryn Ingalls
Alexa Jeremiah
Mattie Johnson
Kayla Kamper
Christiane Kayal
Gabriella Kayal
Liam Kempton
Alexis Khuu
Margaret Kirkpatrick
Megan Kloppman
Jacqueline Kotoriy
Sean LaRochelle
Sydney Lee
Michelle Legan
Katrina Letter
Elizabeth Lewis
Ayanna Limaye
Vanessa Lin
Nafeesa Lodi
Joshua Long
Amanda Lovelace
Marissa Martin
Jessica McDonnell
Jessica Michaels
Eric Miers
Emma Miller
Benjamin Mitchell
Wyatt Moon
Megan Moulton
Ryo Murasaki
Avery Naperala
Cecelia Nerantzis
Rebecca Newman
Adelyn Noble
Nicole Oliashirazi
Abigail Oren
Naijani Ortiz Medina
Grace Overman
Clifton Painter
Ariel Parks
Maria Pham
Erin Phillips
Natalie Pietro
Davis Pillow
Alicia Plumlee
Lauren Proulx
Dylan Rice
Kayla Robichaud
Liam Rowell
Katelyn Savell
Felicity Saylor
Jillian Schmidt
Isabel Schnaidt
Emily Schoka
Lucas Sharrett
Jakira Silas
Jacob Sivak
Samantha Spata
Eric Speeney
Emma Stanich
Emily Stanisha
Kathleen Stanton
Haidyn Stark
Julia Steele
Brianna Stein
Erin Stitt
Emma Sturgeon
Madison Tabler
Stephanie Thompson
Kelly Timlen
Jessica Todaro
Joshua Toth
Kathryn Troyer
Samuel Tyler
Charles Tyson
Delaney Vest
Hannah Walker
Maxwell Wayne
Elijah Weske
Grace Wild
Brooke Wilkinson
Tamera Williams
Karen Wilson
Henry Wilson
Grace Wilson
Jordan Winnett
Isabella Wintersteiger
Alyssa Wright
Emma Wynn
Emily York
Aria Zand
Kristen Ziccarelli
---