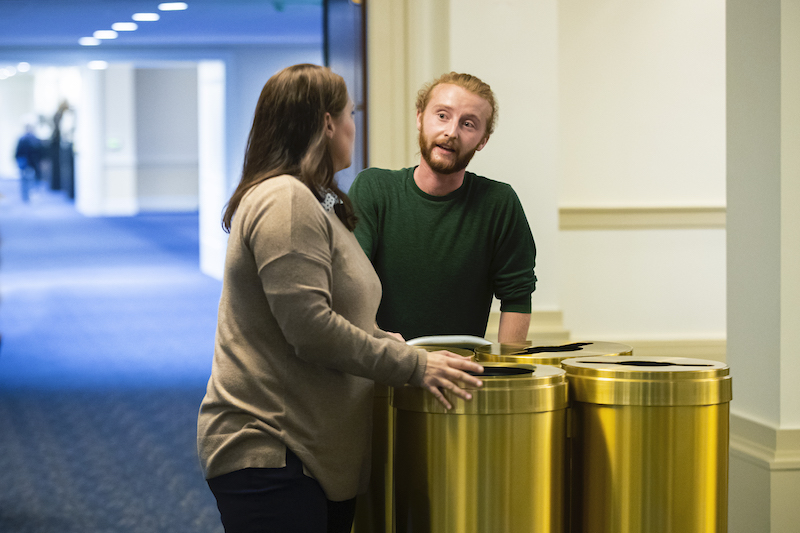 Read time:
---
James Duffy wants everyone to recycle more.
It's certainly a noble, if open-ended goal, but Duffy, a junior majoring in environmental studies and political science, has data on his side to help produce measurable change at Christopher Newport.
For weeks last academic year, Duffy worked in his capacity as an intern with the Office For Sustainability to track the usage of every trash can and recycling bin – 80 total – in the Trible Library.
Duffy and Jen Jones, sustainability coordinator, worked with housekeeping staff to fill out small paper cards indicating how full the bins were when they were checked. Every two days the cards were replaced, the data collected into a database.
By crunching the numbers, Duffy and Jones were able to make the case to remove the small trash cans in each study room. Housekeeping staff was understandably concerned that trash would instead get left behind in the rooms instead of taken to the closest trash can.
Duffy called their removal, which happened over the summer, a "win-win-win."
"if we can make these centralized stations, people can throw things away in the larger bins, and it saves time for housekeeping," Duffy said.
The data also showed that more recycling bins in high-traffic areas would likely increase recycling. During the study about 7 percent of all waste in the library ended up being recycled, the rest of the waste destined for a landfill.
Duffy says that research shows that paired recycling and trash bins – physically placed side-by-side – result in fewer items being thrown away than when those same containers are separated, even within the same room.
Infrequently used recycling bins were moved to the Rosemary Trible Reading Room over the summer, and eight more pairs were added to high-traffic areas during the fall semester.
Anecdotal evidence so far says it's working. Students are throwing away trash after they leave study rooms, and fewer trash cans means fewer bags that housekeeping staff have to remove and replace. More visible recycling bins should, in time, result in more recycled items.
Duffy sees Christopher Newport as a place where people care about sustainability, but they may not know how to get started.
The work of the Office for Sustainability, which now supports four interns' efforts, paired with many environmentally minded student organizations, is helping make that difference, one recycled bottle at a time.
"I love Christopher Newport and being part of that move to make that change and make it even better," Duffy said. "This is what I've liked to do for so long. This is the culmination of all of that."
---