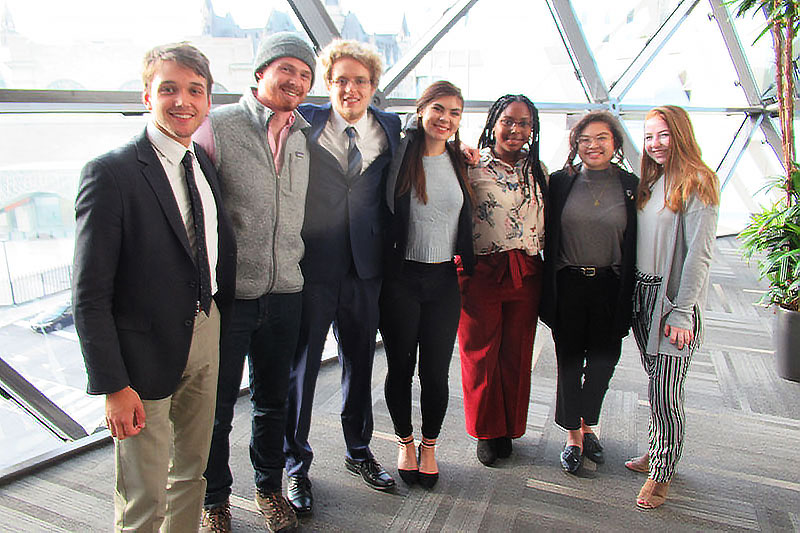 Read time:
---
Students in the leadership studies program showed off their knowledge and learned from experts at the annual conference of the International Leadership Association (ILA).
Meeting in Ottawa, Canada across the street from Canada's Parliament building, the students participated in ILA's Case Competition along with counterparts from dozens of universities around the world.
For the competition, the students analyzed a current socio-political-economic problem, demonstrated their knowledge with a poster and then discussed ways to address that problem by means of leadership.
In 2018, a Christopher Newport team won the competition. The 2019 teams representing the university didn't fare as well but still excelled in the eyes of the judges and their peers.
"This was an incredible opportunity for our students and they did CNU proud," said Brent Cusher, professor in the Department of Leadership and American Studies. "In an amazing setting in a capital city, they learned about leadership and showcased their rich understanding of the subject. They won't soon forget what they experienced."
The conference was notable for two other reasons:
Students Nicole Garcia and Ivy von Perbandt had the rare opportunity to present their research to experts in the field gathered for roundtable discussions that usually feature only prominent academics and practitioners. Their topic: Context is Key! Environmental Issues as a Leadership Problem.
Researchers Lynn Shollen and Elizabeth Gagnon unveiled the results of the first national survey of attitudes about leadership. Shollen and Gagnon are both members of the Leadership and American Studies faculty.
The survey indicated many Americans are discouraged by the quality of their leaders, whether in politics, business, religion or other areas. They're also pessimistic about the abilities of future generations of leaders. Read more about their conclusions at the link at right.
Several other Christopher Newport faculty members led discussions about their research at the conference and coached the students through their part of the program.
Next year's conference will be in San Francisco and Christopher Newport is likely once again to have a large and well-respected delegation of students and faculty in attendance.
---