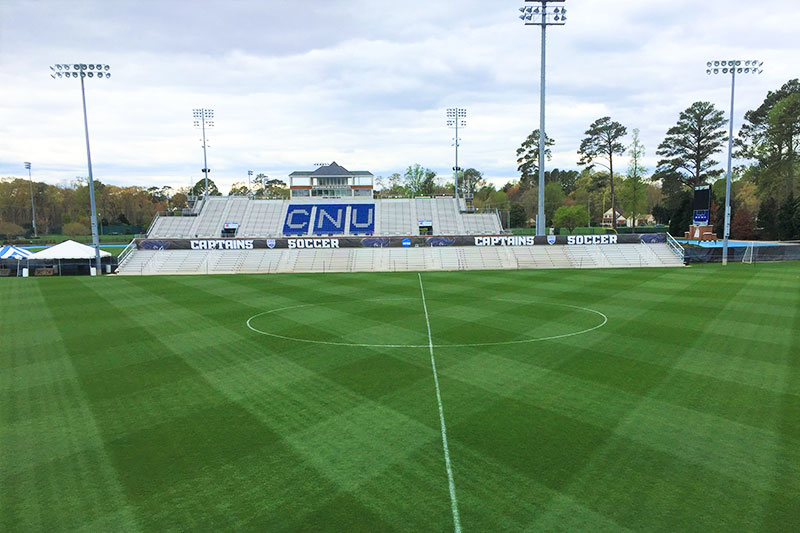 Read time:
---
Captains Field, home of the Christopher Newport soccer teams, is one of the nation's 2019 Field of the Year winners as selected by the Sports Turf Managers Association (STMA).
The association represents 2,700 men and women who manage sports fields for professional and amateur teams worldwide.
"Captains play for championships on our fields and they deserve the best," says Chris Webb, associate director of grounds. "We are proud to receive this honor from STMA, and it is recognition of the outstanding work done by our grounds team on a daily basis."
What is considered the highest honor in the industry at the collegiate level was awarded to Christopher Newport (soccer), Georgia Tech (baseball), Mississippi State (football), Stetson (softball) and Duke (sporting grounds).
A panel of 12 judges independently scored entries based on playability, appearance of surfaces, utilization of innovative solutions, effective use of budget and implementation of a comprehensive agronomic program.
"Each of these natural grass facilities embody the level of excellence that sports field managers around the country strive for every day," says Kim Heck, CEO of STMA. "All of the applicants are true examples of professionalism and represent the unwavering commitment of STMA members to field safety and playability."
Awards will be presented at the 31st annual STMA Conference and Exhibition in West Palm Beach, Florida, January 13-16, 2020. Winners receive a plaque, recognition at the STMA annual awards banquet, and will be featured in a 2020 issue of SportsTurf Magazine, the official monthly publication of STMA.
In 2018, Captains Park, home to Christopher Newport softball, was also selected as a Field of the Year.
---