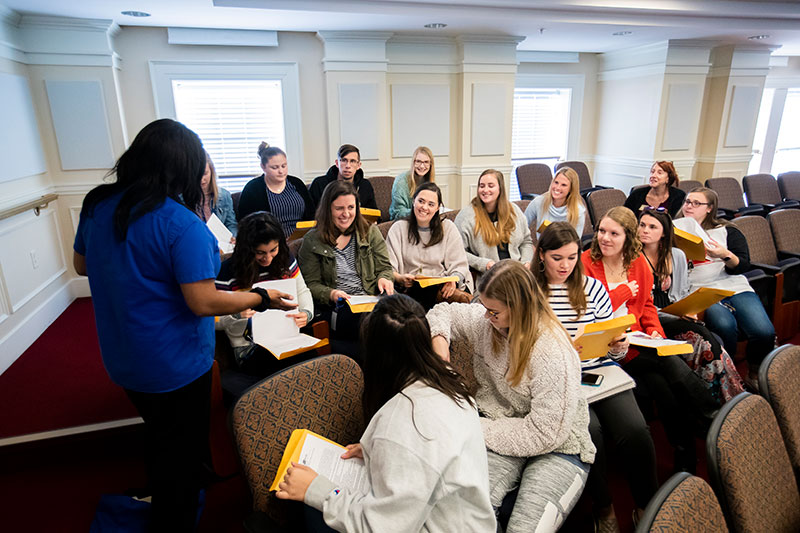 Read time:
---
It was as if the students in the master of arts in teaching (MAT) program weren't sure they'd heard correctly. We're hired? Months before we graduate? Yes and yes. They had their listening ears on and they had heard right. And when 41 of them opened the envelopes with job offers (and signing bonuses!) inside, they knew their dream to be a teacher would be fulfilled.
The envelopes were the happy climax to a surprise announcement. The students had been summoned to McMurran 101 for what they thought would be a routine seminar. Instead, a phalanx of top officials from the Newport News Public Schools (NNPS) took seats up front.
Jean Filetti, director of the MAT program was also there and so was Karyn Ward, the associate director. Ward introduced NNPS training and development director Allison Anderson. She pumped up the crowd by describing the advantages of a career in the community Christopher Newport calls home. Then Stephanie Hautz, NNPS human resources director, broke the good news.
Big smiles broke out. Photographers from the university and the Daily Press captured the moment. Clusters of students met with recruiters for their area – elementary, middle or high school. Each student had 10 days to accept the offer. Only a handful of prospective music teachers were on standby as those positions rarely turn over and NNPS couldn't commit to hiring all of the MAT candidates.
"Because of the growing teacher shortage in Virginia, we're confident that all of our MAT graduates will get good offers, but this is the first time a school division has stepped forward with a group offer and so early in the year," Filetti said. "For those who accept, this will really reduce the pressure and uncertainty of their final months as a student."
NNPS and Christopher Newport have a longstanding and mutually beneficial relationship. The MAT students practice teaching in NNPS classrooms in the city that is home to the university. About 35 percent of the MAT graduates usually take NNPS positions, and 20 to 30 other school divisions will recruit at Christopher Newport, Ward said.
"Graduates of the MAT program are uniquely qualified to start their careers and excel from the first day," Ward said. "To have NNPS offer all of them positions is a wonderful endorsement of the quality of our students and the preparation they receive."
---