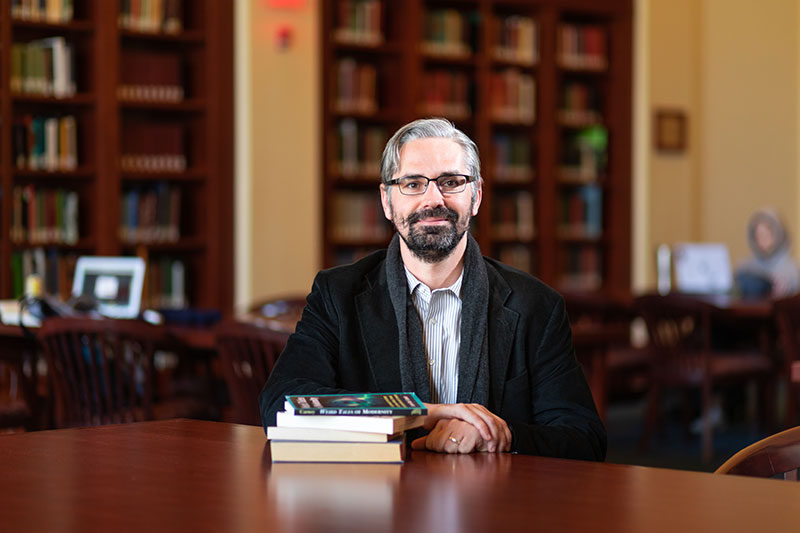 Read time:
---
Dr. Jason Ray Carney is the author of a newly published book that celebrates pulp fiction as a counterpoint to the literary canon.
Weird Tales of Modernity: the Ephemerality of the Ordinary in the Stories of Robert E. Howard, Clark Ashton Smith and H.P. Lovecraft was published by McFarland Books.
Carney is a lecturer in the Department of English and has long studied pulp fiction. "It was the popular literature of the working classes," he says. "It was cheap, entertaining and unpretentious." Pulp fiction was especially in demand in the mid-20th century and offered adventure, mystery, wonder and horror.
Literary historians often overlook it, focusing instead on more "reputable" authors, such as James Joyce, T.S. Eliot, Ezra Pound and Virginia Woolf. Their writing corresponded with the tastes of a cultural and economic elite. "Studying pulp fiction can be seen as a democratic gesture," Carney says. "By doing so, one gets a wider view of the literary sensibilities of a wider American milieu, a milieu of multiple classes, not just a cultural aristocracy."
The three authors discussed in Weird Tales of Modernity - Howard, Smith and Lovecraft - were serious literary artists. They used their fiction to speculate about such philosophical questions as the function of art and the brevity of life. Their work was published in "Weird Tales," a pulp magazine sold on newsstands from 1923 to 1954.
In his book, Carney describes why the magazine and his trio of subjects were so influential and subversively popular. Read closely and you will detect the roots of the horror, science fiction and fantasy genres that dominate today's movies and merchandise.
Carney is the co-editor of the academic journal The Dark Man: Journal of Robert E. Howard and Pulp Studies and the area chair of the "Pulp Studies" section of the Popular Culture Association.
---