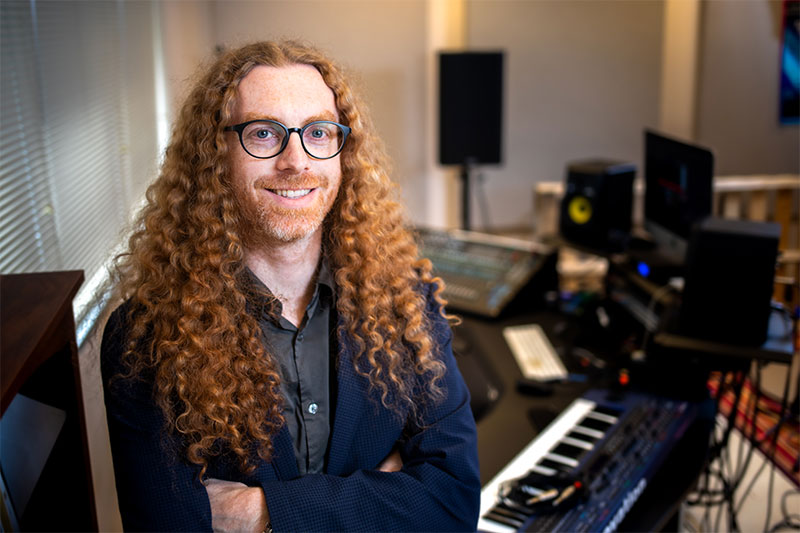 Read time:
---
Maxwell Tfirn is multi-talented. He's a music professor as well as a composer and performer. Now he's joining a University of Virginia scientist on an innovative project funded by the National Science Foundation that will investigate how our ears can help us understand complex systems.
When information is turned into sound it is called data sonification. Although still a relatively new field of exploration, data sonification has the potential of tapping the sensitive human auditory system to recognize changes and patterns in data.
"I am excited about this research because I think it will show that there is a whole area of information and ways of looking at data using sound that could potentially be helpful in understanding information that we can't see with our eyes," Tfirn said. "Hopefully this will bring to light the idea that our ears are equally important and useful as our eyes in understanding the world around us."
Tfirn will team with Roseanne Ford, a UVa chemical engineering professor, on the project: Exploring Beyond Visualization: Data Sonification of Bacterial Chemotaxis Patterns.
"We are looking at a method that I created for turning microscope video into sound that can analyze events that the human eye cannot discern," Tfirn said. "My role is to write the software that will parse out the information from the video data while my collaborator, Dr. Ford, will be conducting the experiments with the microscope."
Tfirn and Ford will convert what the eye can see – swimming bacteria – into a sound that humans can detect and process. From a scientific perspective, the researchers have two goals:
Generate real-time sonified data for E.Coli bacteria as well as track changes in motion using spectral audio processes
Raise awareness among the biological research community to explore data sonification for processing visually chaotic data in meaningful ways
The research also could benefit children. "Sound and music can provide a medium through which to get elementary school-age children excited about science," Tfirn said. The researchers will propose an activity to sonify photos of pets to demonstrate how the sounds can be used to identify features that animals share and others that make them distinctive.
For Tfirn, the research is the latest exploration in a fascinating career. In addition to being director of composition and creative studies at Christopher Newport, Tfirn performs live, improvised electronic noise music, composes music performed at festivals and recorded by a range of bands and artists, and creates digital glitch photography.
---