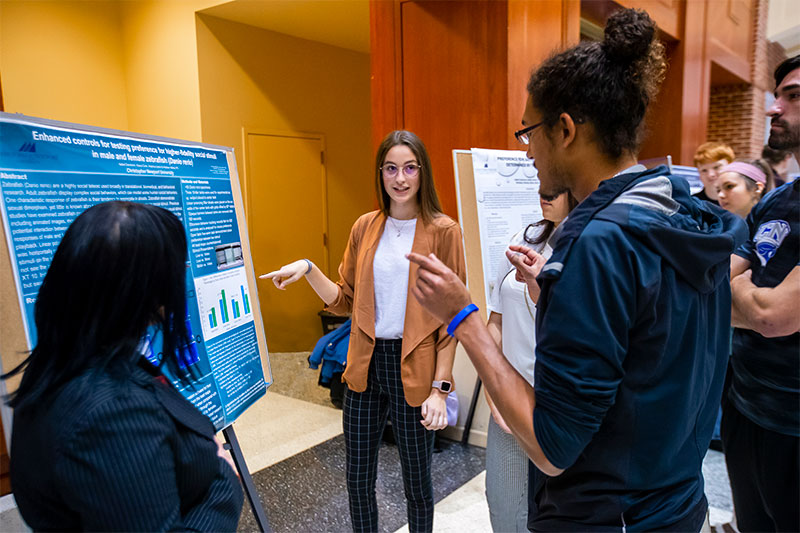 Read time:
---
For junior Isabel Danstrom, the process of choosing a major and setting a life goal began with a visit to an adviser on campus. That visit inspired her to think about her family in a new way. That thinking has put her on a path to a degree in neuroscience and a career helping people like her grandfather.
Danstrom is like many students early in their college educations. There are so many programs to pick from – about 90 at Christopher Newport – and each offers unique challenges and opportunities. It's not easy to find the one major that you're passionate about and that fits with your skills.
Uncertain of what she wanted to pursue as a sophomore, Danstrom met with Dr. Jay Paul, an English professor and the director of Christopher Newport's Honors Program. As the senior member of the faculty, he's offered wise guidance to scores of students.
"He discussed with me the importance of choosing something that is meaningful to you, a field that you will be continuously interested in and intellectually curious about," Danstrom said. "Leaving that meeting, my mind immediately went to my grandfather who has Parkinson's disease. I've watched the progression of this disease on him throughout my life, and have always been curious as to what exactly Parkinson's does to the body to produce these effects. It was then that I made the connection that my intellectual curiosity regarding the nervous system could be cultivated through neuroscience."
Like Danstrom, an increasing number of students select Christopher Newport for its neuroscience program. The program has been so successful over the past 10 years that the university was recently approved to begin offering the bachelor's degree in neuroscience. It is the study of how the brain and nervous system work. Neuroscience is an ideal major for students interested in medicine or neuroscience research, particularly neurology and psychiatry.
"Our students will go on to graduate school or straight into careers in the medical and science fields," said Dr. Drew Velkey, director of the neuroscience program. "We offer small classes, state-of-the-art labs, internships and study abroad opportunities so our graduates will be well prepared for what they want to do next."
For Danstrom, that means graduate school and a career in research. She's already conducting valuable research as an undergraduate. With her classmates in Velkey's Fish Lab, Danstrom is investigating preferences of male and female zebrafish when they are confronted with different types of social stimuli. Their findings will be shared with scientists.
---