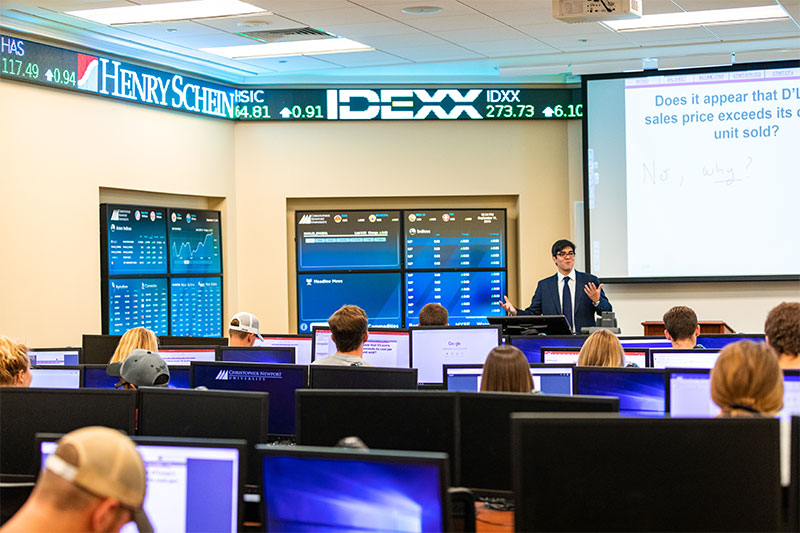 Read time:
---
The Joseph W. Luter, III School of Business has had its AACSB International accreditation in business extended. It is a prestigious honor that places the Luter School in the top five percent of the world's schools offering business degrees at the bachelor's level or higher.
"For more than a century, AACSB accreditation has been synonymous with the highest standards in business education," said Luter School of Business Dean George Ebbs. "This distinction affirms that we are on the right path with our emphasis on leadership, hands-on learning, interaction with alumni and business leaders, and service to the community."
Ebbs said the reaccreditation is the result of continued innovation and hard work by the school's faculty and staff. The school was first accredited in 2005 by AACSB, then known as the Association to Advance Collegiate Schools of Business.
"AACSB congratulates each institution on their achievement," said Stephanie M. Bryant, executive vice president and chief accreditation officer of AACSB. "Every AACSB-accredited school has demonstrated a focus on excellence in all areas, including teaching, research, curricula development and student learning. The intense peer-review process exemplifies their commitment to quality business education."
According to AACSB, achieving accreditation is a process of rigorous internal focus, engagement with an AACSB-assigned mentor, and peer-reviewed evaluation. During this multiyear path, the Luter School has focused on developing and implementing a plan to align with AACSB's accreditation standards. These standards require excellence in areas relating to strategic management and innovation; students, faculty and staff as active participants; learning and teaching; and academic and professional engagement.
---