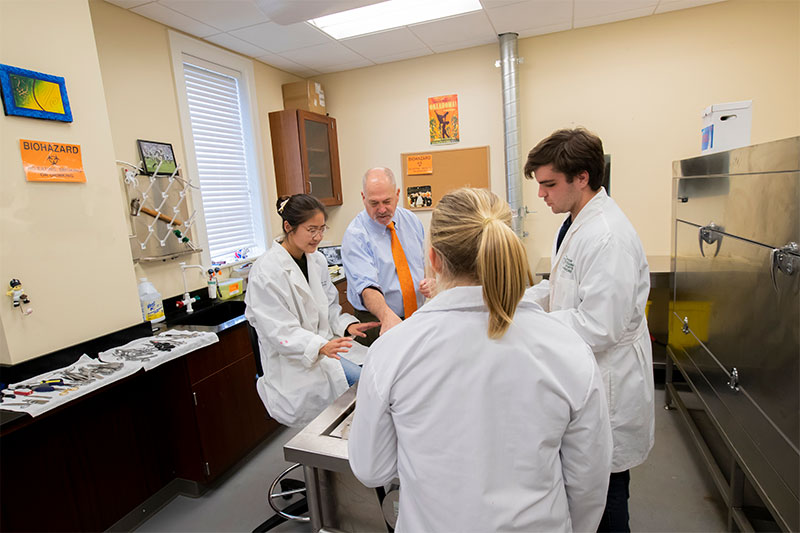 Read time:
---
A small classroom on the third floor of Forbes Hall is home to one of Christopher Newport's most unusual learning environments, decorated with framed photos, flags, high school memorabilia and other items contributed by students.
There is also, in a large steel case, a human body.
The photos and other personal touches serve a purpose: encourage the students to treasure life, even as they learn with the help of someone no longer alive.
Dr. Keith Lustig's Anatomy Lab is about more than delineating the muscular, nervous and skeletal systems that make up the human body.
It's about science and art, about studying how those systems function together by working closely with a cadaver, a body that has been donated to science through a state-regulated process.
"This is teaching hands-on clinical human anatomy," Lustig said.
Lustig is a retired board-certified orthopedic and trauma surgeon with a passion for teaching. As a surgeon, he helped teach residents, graduate medical students; now, he does the same for aspiring undergraduate healthcare practitioners.
Lustig stresses that the course enhances the normal anatomy lab where plastic human models and cat dissection complement Christopher Newport's course in anatomy and physiology.
Anatomy had long been about memorization, Lustig says, but that's not what this lab is about. It's about incorporating new learning techniques that take the "stress" out of gaining knowledge.
"There's something different about the real thing," Lustig said. He can show surgical procedures to teach the anatomy while also exploring the structures and knowledge necessary to protect the body to prevent complications.
A new cadaver is used each academic year. Lustig feels a deep obligation to preserve the donor's dignity. They don't get a name or nickname. The class receives only as much information as the family wants to share, usually just the age and cause of death. This allows students to learn to identify abnormal areas that may be related to illnesses the patient may have endured.
Lustig will sometimes ask students to bring in personal items, something to remind themselves of their collective humanity and ground them for the work ahead. He stresses this is a living lab, so many interesting objects – photos and flags and the like – are displayed on the shelves and walls in the lab.
A body can still say a lot without being able to speak. Lustig helps identify past surgeries, injuries and anatomic aberrations.
His students come in with varying aspirations in the medical field. But no matter what's next, they say getting practical experience before graduate school – a rarity for undergraduates – is a win-win.
Patrick Bauserman is a junior neuroscience major interested in being a surgeon. A big draw for the course was having the ability to walk in to class, ask if he can perform a specific surgical procedure and then actually do it alongside Lustig.
"Being able to do it on a real patient is exciting. (Lustig is) also very receptive to our ideas. The class is designed so we can do research projects. We can start off on something abstract, and then by the end have a solid idea of what we want to do," he said. His project evolved from that interest in surgery to exploring the donor's knee ligaments to creating a procedure to reconstruct torn ACLs in adolescents.
As an independent study course, the class hours are flexible. Half the time is spent in the lab, while the other is put toward a longer-term project that involves several meetings with each student.
Those projects are wildly varied in topic and approach, including:
Researching the cause of Boston Red Sox pitcher Curt Schilling's "bloody sock" injury in the 2008 World Series
Finding a connection between astrology and anatomy by comparing constellations to the nervous system
Creating art about the human body, motivated by a Hebrew mourner's prayer
Anna Patterson is a senior majoring in cellular, molecular and physiological biology. In Lustig's lab, she can combine her insight as a member of the sailing team with her interest in pursuing a graduate degree in physical therapy.
"Connecting my understanding of anatomy in the classroom to protocols for physical therapy and then seeing how you can specialize in those, based on specific sports, has been really helpful for me," Patterson said.
A head start to graduate school is an achievable goal that Lustig sets for his students.
"In our short time I've already had at least 12 students who have already started their graduate programs that have contacted me several times just saying that they were grateful to Christopher Newport for developing the course," Lustig said. "It has made their first year in graduate school so much less complicated."
That smooth start to a career in healthcare is the final and deeply appreciated gift of a nameless person.
---