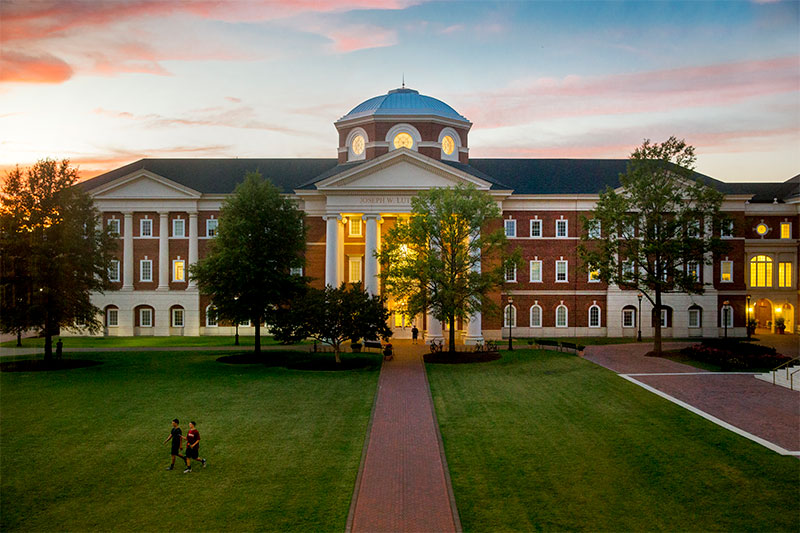 Read time:
---
A new 2020 ranking once again places the Joseph W. Luter, III School of Business among the top 50 in the nation while also underscoring the high quality teaching that is the school's hallmark.
The business education news outlet Poets & Quants ranks Luter's undergraduate degree program No. 48 and among the top four in Virginia. Luter is more highly ranked than such noteworthy institutions as the University of Arizona, St. John's University and Elon University.
The rankings, considered the most comprehensive assessment of undergraduate business schools, are based on employment and admissions data, as well as an extensive survey of alumni. One aspect of that survey stands out – 80% of the Luter alumni said they would recommend the school to a friend or colleague without hesitation.
Students in the Class of 2017 were particularly pleased with their interactions with faculty, according to the Poets & Quants survey. The Luter School was among the nation's best in these categories:
Quality of teaching in business courses (rank: 15)
Availability of faculty for informal discussions about grades, class topics and expectations outside of class (10)
Availability of faculty for mentoring and non-academic discussions (7)
"This demonstrates that at the Luter School, indeed across Christopher Newport University, our students are our priority," said Luter Dean George H. Ebbs. "We are especially gratified that our alumni think so highly of their time here and so value the education they received."
The Luter School features a Liberal Learning Core Curriculum that requires 40 semester hours of coursework from every student, in addition to 15 credit hours of pre-business preparatory work before being admitted as a business major.
In addition to the high ranking in alumni satisfaction, Christopher Newport earned a top-50 mark for its career outcomes. That assessment is based on the percentage of students with internships before graduation and with full-time jobs within three months of graduation. Their average salary and signing bonus is also a factor.
Among Virginia schools, the University of Virginia, the College of William & Mary, and the University of Richmond joined Christopher Newport in the top 50 rankings.
---