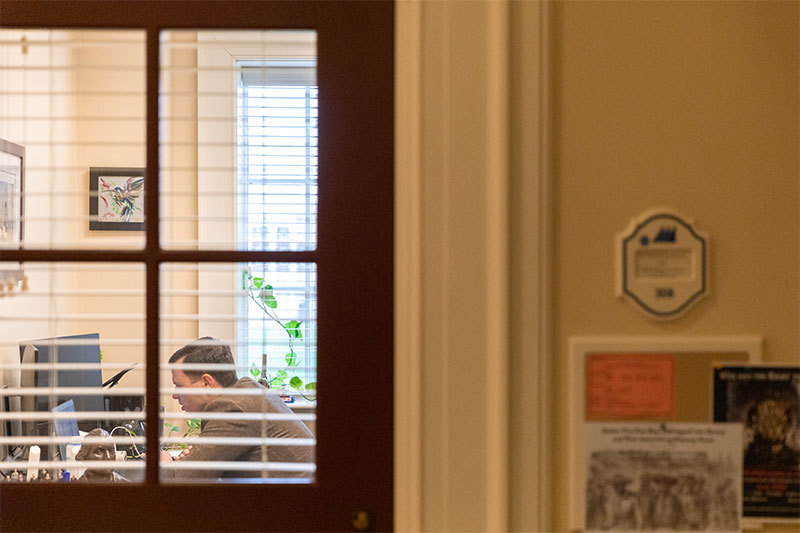 Read time:
---
Dr. Frank Garmon Jr. closed his door Monday morning and started class promptly at 9 a.m. Twenty-five of his students joined him for a lesson on the Constitution in the 18th and 19th centuries.
It was not business as usual. Garmon conducted his section of The American Experiment, the introductory American studies course, entirely through his computer.
Garmon, a postdoctoral fellow in the Center for American Studies, lectured on video for almost all of the hour-long class using Blackboard Collaborate's online streaming feature. The chat window embedded in the video stream allowed students to ask questions, similar to raising their hands in a physical classroom.
Garmon joined hundreds of faculty members who spent the past week working hard to transition their course to an online-only setting as the university responds to COVID-19. The move to remote-only learning has shown Captains at their best, working to help the Christopher Newport community continue to teach and learn while apart.
"I am heartened and inspired by the work of so many people pulling together for the greater good, even while facing hardships and worries at home," President Paul Trible said in a message to the Christopher Newport community the day before classes resumed. "Although we will be physically separated for the remainder of the semester, I am confident that our values, our culture and our spirit transcend boundaries and endure over any distance."
James Duffy, a junior majoring in environmental studies and political science, experienced that dedication firsthand as classes resumed. Joined by a dozen or so houseplant "classmates" at his home in Baltimore, Duffy went to his Intro to Environmental Studies class at 10 a.m. as he had earlier in the semester.
Using Scholar, the class conducted a mock-UN climate situation, discussing different countries' and stakeholders' goals in global climate change agreements. The groups were able to break into small groups and chat directly with their professor, Dr. Jaime Allison, making for what Duffy said was a solid substitute for an in-person meeting.
Most importantly so far, Duffy said, has been the support he has felt from his professors. While always finding them to be accommodating, he said the situation has shown faculty at its finest.
"Every single one of my professors have all expressed incredible flexibility in accommodating our specific situations," Duffy said. "All of them have reminded us that they care about us, our health and our holistic wellbeing, not just our grades."
Garmon was one of many faculty members who participated in training sessions held by Information Technology Services in the past week. The sessions showed professors the technology options that can best facilitate online learning.
Jered Benoit, associate director of enterprise services, said training sessions were full as faculty took advantage of the opportunity. Some professors shared with others what has worked best for them in the past, while others worked on innovative solutions to hands-on labs and classes.
Professors did lab experiments, recording each step with their phones in order to make one video with voiceover narration. Music faculty are working on ways to have synchronous voice lessons to provide real-time feedback.
"Part of the reason they became faculty is they're curious and they want to continue to learn," Benoit said. "I think that really shines through during these training sessions. Lots of good questions on the pedagogical impact and how they can replicate the classroom experience online.
"I think that while this isn't the CNU norm, the way we prefer to deliver class, the engagement I've seen from faculty will prove that we can deliver teaching excellence no matter what the hurdle is because of the dedication of our faculty and the people who support them."
---