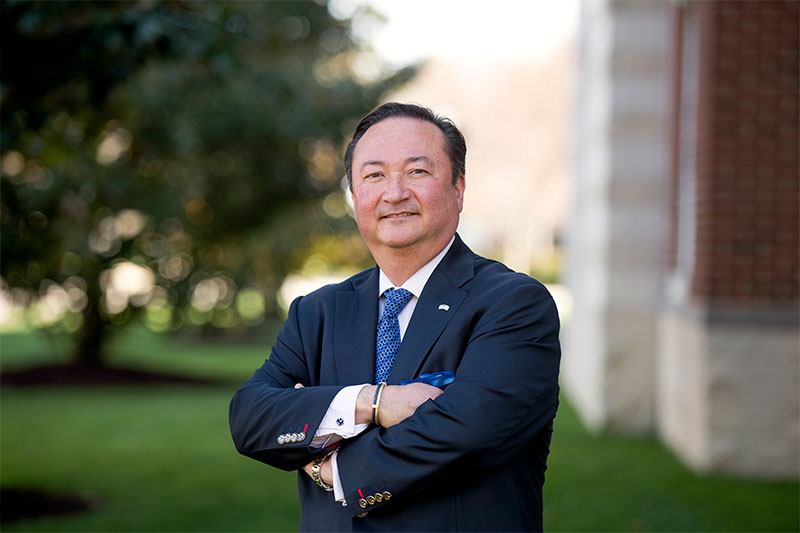 Read time:
---
As part of our Inspiring Leadership initiative, we are asking members of our community to suggest stories about alumni who demonstrate what it means to live a life of significance. Please send us your suggestions. Here is one of those stories.
---
Landfills date back as early as ancient Rome. Trash was produced, trash was collected, trash was buried in the ground.
Not much changed for hundreds of years. Trash is still produced, trash is collected, trash is buried in the ground.
Perry Moss ('83) changed that routine and isn't finished.
The business administration major has helped lead a revolution in a traditionally predictable industry. It's a modern concept: producing less waste in the first place, recycling as much as possible and, while you're at it, doing good for society.
Moss is chief advisor and a co-founder of Rubicon Global, an Atlanta-based international technology company that offers cloud-based waste and recycling management solutions with a focus on sustainability. The company's mission is to end waste, in all its forms, by helping its partners find economic value in their waste streams and execute on their sustainability goals.
Moss oversees the company's operations to help find the most cost-effective, sustainable solutions for customers. Rubicon's clients include Wegmans, 7-Eleven, Lumber Liquidators and David's Bridal.
For example, Rubicon is advising a company that is seeking help to reduce food waste. Rubicon is helping the company track and measure food as it leaves their stores, whether as donations or as feed for livestock or compost. The result is an alternative to sending this organic material to a landfill.
Rubicon is a Certified B Corporation, meaning it considers the impact of its decisions on workers, customers, suppliers, community and the environment. It's a no-brainer in line with the company's mission.
"I was certainly inspired by my time at Christopher Newport, and perhaps at the time I was attending I didn't realize how inspired I would become," Moss said.
"Living a life of significance is very important, and what I've learned in business is, we can do the right things and still be profitable and have a business motivation tied to doing good. Why not do them both?"
In planning to disrupt the status quo, Rubicon's founder, chairman and CEO Nate Morris, knew Moss was the best man for the job.
Moss' decades of experience had made him a "legend in the space," a trailblazer in the approach to waste and recycling that Morris wanted to spread. Working across the industry, Moss had honed his recycling and leadership expertise.
Rubicon was a perfect fit.
"(Perry) had been the early pioneer of this business model, and as we started having conversations I knew that if we could take his approach and his knowledge, we could then move it to the next phase of transformation (of the industry). We were able to leverage Perry's knowledge and his experience to help build Rubicon into what it is today," Morris said.
The picture Morris painted aligned perfectly with Moss' personal values of protecting the environment and doing good. Having spent part of his childhood in Hawaii, Moss had been inspired by the natural beauty of the islands and the culture of caring for those surroundings.
That translated into a lifelong interest in the environment and helping to promote environmental responsibility.
"(Rubicon's) vision was around treating our employees differently, treating our customers differently, having a social mission to the business in addition to just being for-profit and disrupting this antiquated landfill waste model.
"Instead of pitching only cost savings, we are pitching landfill diversion, sustainability, transparency, providing data and metrics to our customers in an otherwise very opaque industry. At the end, the pitch becomes, by the way, we'll also save you some money as well. Where we used to lead with cost savings, now it's frosting on the cake, so to speak," Moss said.
Helping run and sell solutions in the waste and recycling business was not the direction Moss saw life taking him while he was at Christopher Newport. He describes himself as an average student, enjoying a robust social life and making lifelong friendships with fraternity brothers, friends who have also gone on to be successful in their respective fields.
During his time at Christopher Newport, Moss was also a charter member of the baseball club, which became a varsity sport in 1982, and fundraised for local charities.
"We had a very special student body that came together. We were maybe not as privileged as some others, but together we were a force. I've always found that helped me throughout my career. Don't worry about being the underdog – if you never give up, you'll succeed," Moss said.
Morris said that's evident in the way Moss works. He's constantly learning while also doling out knowledge to younger colleagues, a mark of a good leader. Any challenges that have come their way have been met by Moss with calm and collected responses; he's never one to give in to a crisis.
"Every day for him is teaching a new lesson about the industry, how it works, about how we can make our product better and about what we can do to continue to lead in the space. So I've just really enjoyed the journey with him," Morris said. "I think it was a turning point in my trajectory as an entrepreneur in meeting Perry and being able to work side-by-side with him."
The result of that collaboration, reduced to its most basic elements, is that we all produce less trash. Rubicon takes less trash to the landfill. Less trash is buried in the ground. That's progress, even though it took hundreds of years to accomplish.
---