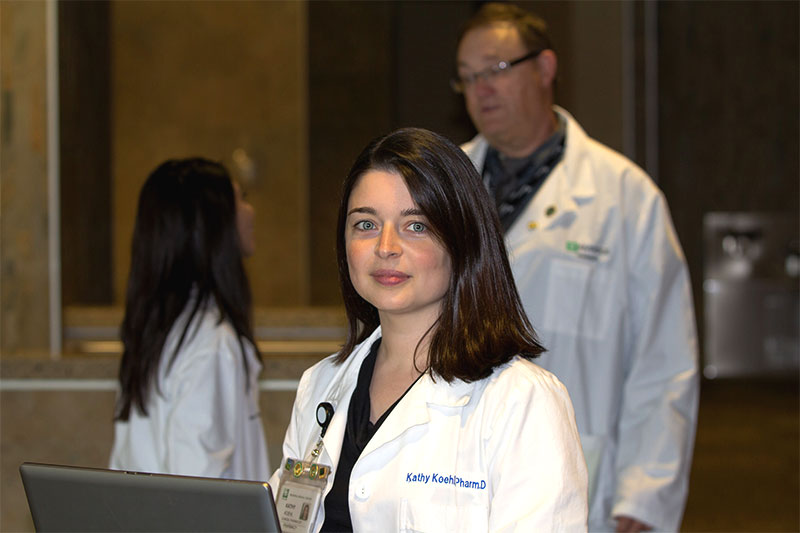 Read time:
---
As the university and the world deal with the coronavirus outbreak, Christopher Newport alumni and students are on the front lines. In a variety of roles, they're finding ways to help and proving the wisdom of what Mr. Rogers often said: "When I was a boy and I would see scary things in the news, my mother would say to me, 'look for the helpers.' You will always find people who are helping."
Here are some of the Captains for Life and students who are helping, and we urge you to share more stories.
Tyler Bemis ('13, history) is regional sales manager at CV International, a Virginia Beach firm that offers supply chain, logistics, and shipping assistance to U.S. and international companies. The company transports N95 masks used by health care workers.
Allen Brooks '04, Cheyanne Dwyer '16, Kathleen Veer '15 and Cecily Wynne '17 are helping create solutions across the country. As employees of Alexandria-based Building Momentum, the theater alums usually execute the company's mission to train people how to solve problems using tools such as 3D printing, laser cutting and welding. Now, they're using their resources, including a 20,000-square-foot workshop, to develop technologies to make thousands of N95 masks as well as sanitizing products to clean homemade masks donated to hospitals.
Wade Browning ('18, environmental studies) is a firefighter in Hampton and also serves as an emergency medical technician. Hampton, with its dense population, has been hard hit by the coronavirus with more than 90 confirmed cases and 27 hospitalizations.
Laura Fielden ('17, biology) is an occupational therapist at Williamsburg Landing, a retirement facility in Williamsburg. She helps treat residents recovering from the virus. Appropriately, her brick paver on campus reads: "Aspire to Inspire." She is doing that everyday.
Katie Harry ('05, biology) is an infectious disease lab scientist working at the Minnesota Department of Health. She tests for a variety of viruses, including COVID-19. Her ability to get results out quickly helps health workers make crucial patient care decisions.
Anna Hastings ('06, communication) and Taylor Williamson ('14 and '15, history and teaching) are middle school teachers at John Rolfe Middle School in Henrico. They continue to lead by working with students, parents and staff to navigate learning during the COVID-19 crisis.
Karl Hedlund ('06, business) and his team at AIS Industrial Services in Richmond are repairing critical pumps and motors throughout the pandemic. These skilled workers are coming into work daily to keep the municipal wastewater and freshwater pumps operating around Virginia.
Jessica Johnson ('13, neuroscience) is a senior emergency medicine resident physician at Stanford Hospital in California. She urges people to stay home to help flatten the curve and reduce the suffering she has seen first-hand.
Steve Kast ('87, leisure studies) is the president and chief executive officer of the United Way of the Virginia Peninsula. As he described in a Daily Press article, he has been coordinating the work of relief agencies that are struggling to get help to the region's most vulnerable residents. The United Way this week launched a new emergency response fund to help its partner agencies cope with the higher costs of operating in the crisis.
Dr. Kathy Koehl ('03, biology) is the system director for clinical pharmacy services for Riverside Health System. She coordinates the clinical pharmacy response to COVID-19 for the health system, reviewing new literature that is emerging daily, advising physicians on treatment plans, and helping patients get access to drugs.
Lindsey (Newman) Horner ('07, history) is education manager at WHRO public broadcasting for the Virginia Peninsula. She's been providing free educational resources to K-12 students throughout Virginia, efforts that were featured on the March 24 edition of HearSay with Cathy Lewis.
Mariana Keener ('13, biology) is a family medicine resident physician in her second year at Riverside Regional Medical Center. She is taking care of patients, helping to admit them in the hospital and manage their care on the floor, as well as triage patients in the clinic.
Zachary Luyo ('22, neuroscience) continues his work at Riverside Regional Medical Center. The President's Leadership Program member helps transport patients to and from their rooms and various procedures. He plans to become a health care professional after graduation. "My goal in life is to save those who are dying, and help improve both the quantity and quality of life of those burdened with health problems," he said. "Working in a hospital that actively houses multiple COVID-19 patients, I have seen the risks that come with working in the health care field; however, I have also seen the fire that everyone has to save them. The doctors, nurses and everyone else does absolutely everything they can to save as many people as they can."
Dede Mandara ('00, nursing) is a nurse practitioner at Sentara Norfolk General Hospital. She says: "Christopher Newport prepared me with the skills to manage diverse populations."
Peter Miller ('21, biology) is continuing his work as a volunteer EMT-firefighter with Hampton Fire and Rescue. Miller, a member of the President's Leadership and Honors programs and a Bonner Scholar, created the Captains Emergency Response Team, which allows CNU students to train and volunteer as EMTs. Miller continues to go on service calls with the city of Hampton and is helping coordinate remote volunteer EMT courses.
Jeff Mingee ('04, English) is pastor of Catalyst Church in Newport News. To give back to the medical personnel who are serving the community, Mingee has organized food trucks to serve lunch at Riverside Regional Medical Center on Easter Sunday.
Adam Paymer ('23, biology) is volunteering at the Hershey Food Bank in Pennsylvania and delivering for Meals On Wheels. Paymer is a member of the President's Leadership Program and on the lacrosse team. Adam works with his mother, delivering food out of big coolers in the back of the family car.
Freshmen Joseph Rekus and Justin Lee and sophomore Sydney King launched a worldwide project called #walkwithme as part of their Honors special topics class: People, Power and Change. The project asks people from around the world to take a picture of their fitness tracker steps for the day and share it with the hashtag. "The #walkwithme project is all about staying active during quarantine, to promote wellness of both mind and body," said Lee. "We have made it our goal to prevent this virus from slowing us down."
Lauren Silsbee ('08, master of arts in teaching) is the librarian at Seaford Elementary School in Yorktown and has been active online sharing resources and activities with hundreds of children who are learning at home. She's also assisting homeschooling families because public libraries are closed.
Valerie Washington ('15, economics) is a case manager at the Haven, a homeless shelter in Charlottesville. She is working to find permanent housing for the homeless population most likely to be exposed to the virus.
Timmy Woollum ('22, business) is serving his neighbors in Williamsburg. A member of the basketball team, Woollum told The Virginian-Pilot that he saw a need. He is picking up and delivering groceries to his elderly neighbors. One of them called him a "Godsend." Read the story here.
Tasha Wright ('10, history) is a store manager for Food Lion in Newport News. As she describes it, "Every day I come to work to inspire my team to do what is necessary to stay positive in this time of crisis but to also do whatever is needed to help serve our community."
Faculty from the physics, computer and electric engineering, math, art, and neuroscience departments and programs are working with the IT department to use Christopher Newport and personal 3D printers to produce face shields. The masks are being donated directly to the hospital systems in the area.
---