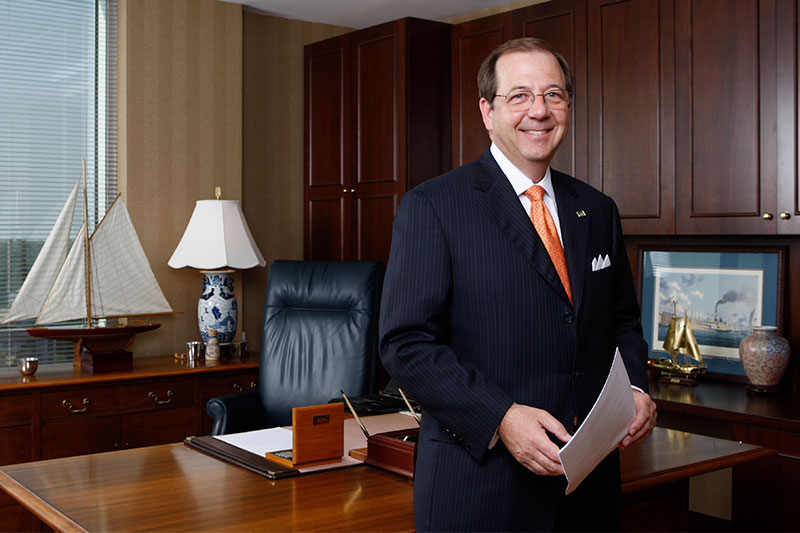 Read time:
---
As part of our Inspiring Leadership initiative, we are asking members of our community to suggest stories about alumni who demonstrate what it means to live a life of significance. Please send us your suggestions. Here is one of those stories.
---
Alan Witt '76 is finding new ways to serve Hampton Roads and Virginia. The CEO and partner of PBMares LLP is now a member of the Hampton Roads Chamber of Commerce Board of Directors and member and first vice chair of the Virginia Chamber of Commerce.
Under Witt's leadership, PBMares has strategically expanded to a leading Mid-Atlantic firm and is now one of the top 100 accounting and business consulting firms in the nation, serving clients nationally and internationally.
Witt graduated from Christopher Newport with a bachelor of science in business administration with a concentration in accounting. Just 10 years after commencement, he was nominated to a position on the Board of Visitors, serving eight years as a member and two as its first alumnus rector.
The former Newport News City Council member has a remarkable history of giving back to the Virginia Peninsula through his work serving on the boards of the Hampton Roads Business Roundtable, Reinvent Hampton Roads, Riverside Health System, TowneBank and the Peninsula Community Foundation.
He earned the CNU Outstanding Alumnus Accounting Chair #1 and Outstanding Alumni Award from the Luter School's predecessor, the College of Business and Economics.
A profile of Witt published in The Virginian-Pilot and posted on the chamber's website captured the qualities that have made him such a leader in business and the community:
"(Alan Witt) is fond of paraphrasing a quote from Collis Potter Huntington, the builder of the Newport News shipyard. Witt's father worked at the shipyard for almost 15 years, and Witt took to heart the quote he saw on a plaque there: 'We shall build good ships here; at a profit if we can, at a loss if we must, but always good ships.'

Witt often reminds his team that, though they don't build ships, the principle is the same: Always do good work.

"It's all about collaborative efforts. It's all about getting everyone on the same page," Witt said. "When that's done, great things can be accomplished.'"
---