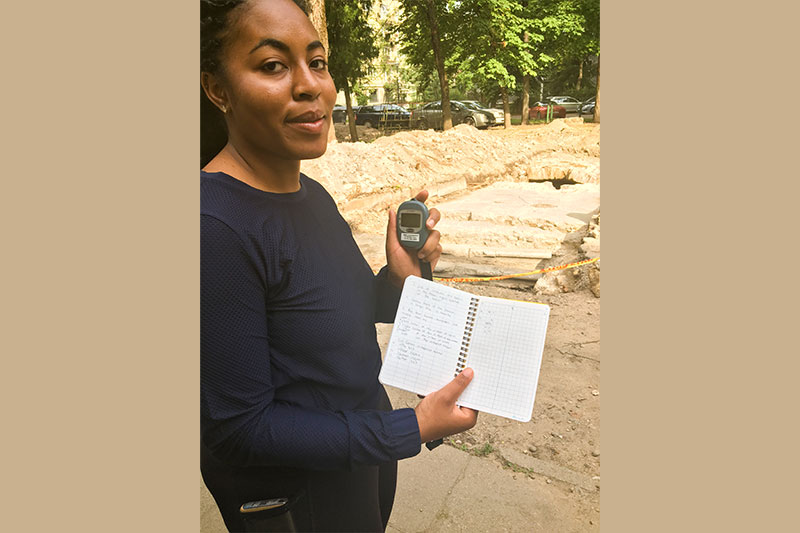 Read time:
---
A 500-year-old Jewish synagogue long buried under an elementary school in Vilnius, Lithuania, has seen new light thanks to a team that included a Christopher Newport student and professor.
The Great Synagogue of Vilna has been studied for years by Dr. Richard Freund, the Bertram and Gladys Aaron Professor of Jewish Studies and a prominent archaeologist, historian and explorer. Last summer marked the first involvement of a Christopher Newport student in the excavations.
By using geoscience to unravel these ancient mysteries about how those in the past lived, researchers can help solve future problems before they happen, Freund said.
"We are constantly building on top of historical layers and losing our legacy below," he said. "This way we can know what is below our buildings and document our history."
Before World War II, the capital city of Vilnius was one of the largest Jewish centers in Europe. Napoleon Bonaparte named it "the Jerusalem of the North" as he passed through in 1812.
Construction on the Great Synagogue was completed in 1633. It was partly destroyed by the Germans during World War II and then replaced by an elementary school during Soviet rule in the 1950s.
Freund returned to the excavation site last summer with a group of students from Christopher Newport and Towson State University, the University of Hartford, Yale University and the University of Wisconsin-Eau Claire.
Students, including Christopher Newport junior computer engineering major Miya Washington, were taught how to use non-invasive techniques to map the layers of the synagogue. It once stood five stories high, with an accompanying three-story bathhouse.
Its main floor was built two stories below the street level. When it was destroyed, the debris from the synagogue was preserved beneath the elementary school that was built atop the remains.
Ground-penetrating radar helped identify what lies beneath, while traditional excavation methods also revealed a litany of information about how Lithuanian Jews lived over the centuries.
"The most important part of our work involved teaching about geoscience from many different aspects, from data collection to mapping to geographic information systems," Freund said. "This work allows us to input all of our data into a record that is digitally accessible long after the excavations are over."
Washington learned how to use geographic information system mapping technology in order to map the site. She helped compile data from bird's-eye view drone footage, drawings that lay out the dig sites and GPS coordinates.
Significant, Freund said, was the discovery of a massive 4-by-4-foot inscription that was thought to be near the altar, or Bimah, where the holy scriptures were read in the synagogue. It dates to 1796 and would have been seen by worshippers daily.
Other findings include coins, glass, ceramics, other inscriptions and written materials, metal, ritual baths, uncovered architecture, beautifully decorated floors, and parts of the ceiling frescoes.
Those items, fragments of what they used to be, help paint an otherwise inaccessible picture of what life was once like in Vilnius.
"It's really cool to find coins and artifacts from the 1800s and early 1900s. Knowing the fact that it was a part of everyday life so long ago made me appreciate more of the world around us," Washington said. "We don't value pennies or buttons but 100 years from now, it'll be an amazing find."
---