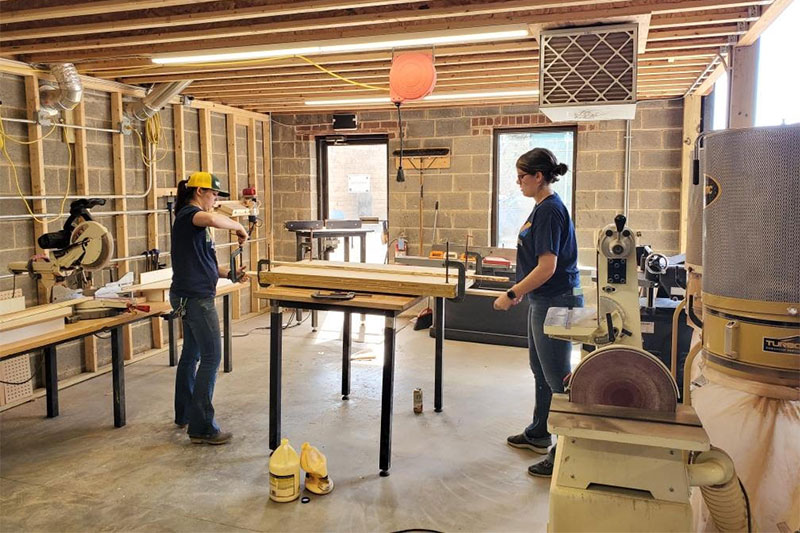 Read time:
---
The Christopher Newport graduates who are employees of Building Momentum are used to helping out others.
The Alexandria-based company is a training organization. It teaches people how to problem-solve using the latest technology, such as 3D printing, laser cutting and welding.
Part of that work means regular travel to teach the Marine Corps all around the world and, last fall, helping in the Bahamas after Hurricane Dorian struck its devastating blow.
Now Allen Brooks '04, Cheyanne Dwyer '16, Kathleen Veer '15 and Cecily Wynne '17, and the entire Building Momentum team is rapidly creating technology and equipment to combat COVID-19.
"We're trying to help in all ways we can," said Dwyer, Building Momentum's director of engagement. "All our Captains have been working for the past three weeks nonstop trying to get as many things done as possible."
The company runs a 20,000-square-foot workspace in Alexandria called The Garden that is usually used as an event and co-working space. Since the pandemic spread to the United States, employees – while adhering to all CDC distancing guidelines -- have used the technology and equipment to create a way to manufacture emergency face masks that health care workers desperately need.
Building Momentum estimates that the company soon will be producing between 3,000 and 5,000 masks. They've also advised a manufacturer in New York about the same process to enable production of 10,000 a day.
They have also designed a robot which uses ultraviolet light to sanitize rooms, a solution which can do the work better than any human, said Brooks, Building Momentum's chief operating officer.
Staff also created an easy solution to sanitize the scores of homemade masks hospitals are receiving. Using the same ultraviolet lights, $350 worth of supplies and a bit of welding, a grill of sorts can be fashioned that can sanitize masks in 30 seconds.
Other projects in the work include finding ways to sanitize phones for Verizon's stores, protections for doctors as they intubate patients and moving all training for the Marine Corps online. Building Momentum's YouTube page is also being frequently updated with the latest breakthroughs, including instructions on how to make the sanitizing grills.
"We're just really building as many solutions as possible and to try to help as many people as we can help while building them," Dwyer said.
All four Captains for Life are theater alumni. Getting hands-on engineering and technical skills when producing shows helped prepare them for the work they're doing now, Dwyer said. Brooks added that the major gives graduates a broad array of skills that enables them to help right now:
"The arts teach people to be both self-critical and able to create the best possible product at the end of the day based on open feedback from whomever they can get it from. It creates people who don't have a lot of ego, as backwards as that might sound, because they understand that the feedback that they're getting is about creating the best thing."
---