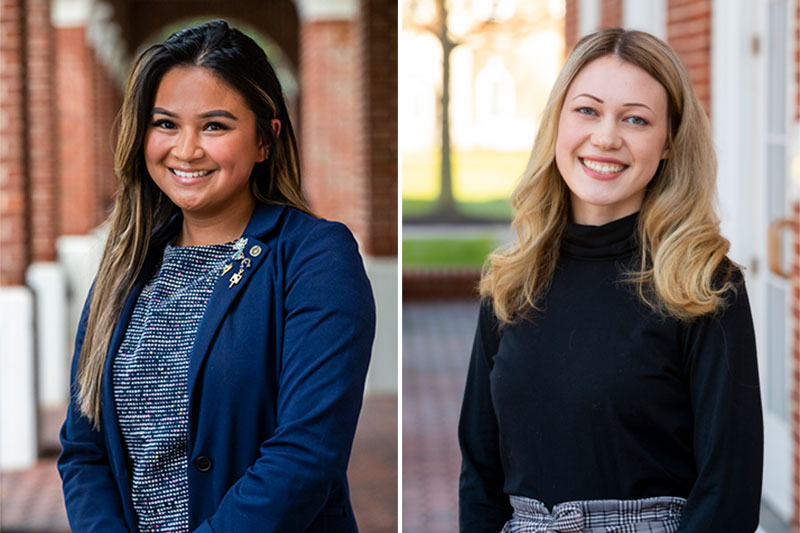 Read time:
---
Seniors Tisha Lim and Jordan Verbeck have been selected by Poets & Quants for Undergrads as two of its annual "best and brightest undergraduate business majors." Each year the influential business publication seeks to honor 100 of the most accomplished seniors from top business schools.
Lim, a management and marketing double major from Broadlands, Virginia, has a long list of academic activities and accomplishments and already has a career-launching position lined up after graduation.
The activities include chapter president of the Alpha Phi International Women's Fraternity, vice president of the Beta Gamma Sigma and Omicron Delta Kappa honor societies, and an internship with Nasdaq. Lim says she will work with Bloomberg Industry Group in Arlington, Virginia, after graduation.
She also hopes to one day serve on the Luter Board of Advisors, telling Poets & Quants: "It's unusual to say that I have found a family within my business school, as most people would rather spend their time with people other than classmates and somewhere else other than classrooms. My classmates became my best friends; my professors became my mentors and confidants; and the building became my home."
Lim says she's most proud of maintaining a high grade point average while being deeply involved in campus life. In fact, she's made the dean's list for all seven semesters of her college career.
"Tisha brings energy, enthusiasm and creative problem-solving to the classroom," says Dr. Matt Hettche, chair of the Department of Management and Marketing. He told Poets & Quants: "She is a natural leader with a unique ability to connect with classmates and professors alike. Her academic interests are diverse and she excels at a number of tasks: research, written and oral communication, and group work assignments. Tisha is certainly one to watch; she is destined to make a significant impact on the business world."
Jordan Verbeck is a finance and marketing double major from Newport News. She has served in a range of leadership positions at Christopher Newport and has assembled an impressive list of internships while also maintaining a perfect 4.0 grade point average.
Verbeck interned at Smithfield Foods in its asset management department with duties that included reconciling private investment funds and developing a new reporting system for private investments. She also interned at Beth Moore and Associates, a CPA firm, and at the Virginia Beach Surf and Rescue Museum. Verbeck told Poets & Quants the array of internships and coursework has given her a deeper understanding of the business world: "The thing that has surprised me most is the interconnectivity of the different areas of study. It amazes me how the lessons I learn in marketing classes pertain to finance topics. The material is relevant and easily applicable to multiple areas of business. Business requires an understanding of many perspectives which is challenging and exciting."
Verbeck has a position lined up at the consulting firm of Deloitte & Touche where she will serve as a government and public services financial risk and advisory consultant.
Dr. Reza Espahbodi, chair of the Accounting and Finance Department, told Poets & Quants that Verbeck will succeed in whatever she takes on: "Jordan stands out not just for her work in the classroom, but in everything, she does on our campus. She has the respect of her peers and our faculty through her strong character and her professionalism and positivity."
---