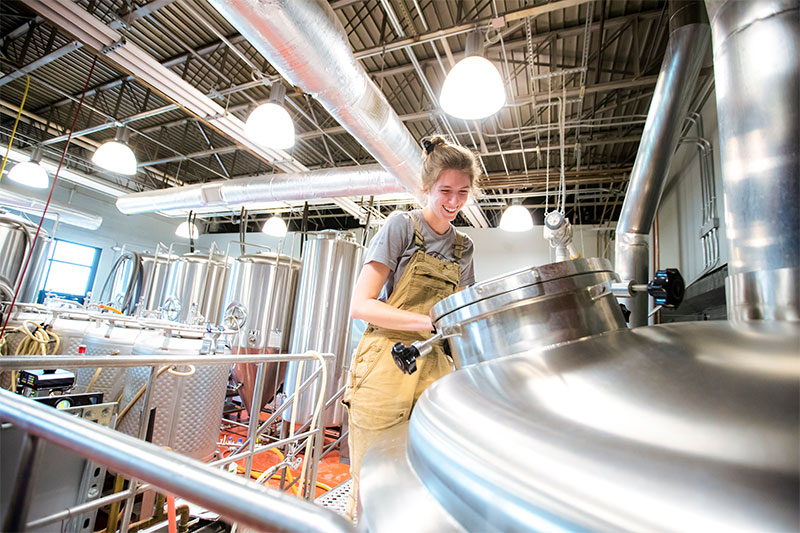 Read time:
---
Good beer is all about chemistry.
The fermentation process that produces a premium can of suds is a science and an art – one that Rachel Edwards '17 knows all about.
After starting at the bottom of the beer ladder as a bartender, the chemistry major is now head brewer at Oozlefinch Beers & Blending in Hampton.
"Studying chemistry at Christopher Newport taught me to think about things differently and not just to learn static information, but to take what you know and apply it to a bunch of different things," Edwards said.
Work at the brewery entails more than making tasty beer. Edwards regularly uses skills acquired in biology labs, builds standard operating procedures and protocols for quality assurance, fixes problems using physics and engineering, and, perhaps most importantly, is constantly cleaning to keep everything pristine.
Edwards' education has been instrumental in helping Oozlefinch, located at historic Fort Monroe, craft its identity.
The brewery, named after the mythical bird first "sighted" at Fort Monroe, was just a craft brewery when it opened in 2016. As the brand grew, its name changed to emphasize the experimental blends Oozlefinch makes, often with the help of live bacteria.
Many breweries shy away from live bacteria because of the risk of contamination, but Edwards' chemistry and biology background help make it work at Oozlefinch. The brewery includes a lab for analyzing the brewing process and keeping quality assurance top-of-mind.
"Understanding what the bacteria needs to thrive, survive and really give us the flavors that we're looking to get – it's insanely important to have a background like that," said Russel Tinsley, founder, owner and managing member of Oozlefinch. "You have a lot of brewers that have some brewery training where they get a crash course on everything, but with Rachel, she's got actual education and experience in it. It's helped us out a whole lot."
New beers are added to the menu at Oozlefinch on nearly every visit, part of the brewery's emphasis on experimentation. Patrons can order flights and pints if they're staying, or buy cans to go.
Oozlefinch's ability to try out new recipes came in handy when it joined All Together, a worldwide collaboration between breweries to support the hospitality industry during the COVID-19 pandemic. The base recipe is the same for all brewers participating; Oozlefinch created a hazy version with a favorite strain of yeast.
Proceeds from Oozlefinch's version of All Together will go toward some of the food trucks that, pre-pandemic, served outside the brewery most nights of the week.
"I'm proud to stand behind a brewery that jumped on this opportunity immediately and is so excited to support our local small businesses," Edwards said. "People helping people in this dire time of need gives me hope for a better future together."
One of Edwards' biggest successes came when she set out to turn the flavor of her favorite dessert, key lime pie, into a beer. Through trial and error, she landed on a formula that's tart but not too sour, truly reminiscent of its namesake.
So far it has won two gold medals in competition, gaining new fans across the country. It also kicked off the brewery's Das Yummy series, which transforms fruity desserts into pint glass pours. So far coconut cream pie, cranberry cherry cobbler and gingersnap pear have been recreated in tangy, fruity beers.
Another brand that Edwards has helped define is the Party Dinosaur lineup of smoothie-inspired brews; the latest smacks of matcha green tea, coconut, toasted almond and vanilla.
They may seem out-there to customers who are seeking a standard flavor, but Oozlefinch's distribution has only continued to grow to more and more cities across the country.
The secret? It all tastes good.
"When people say they don't like sour beers and they come in and try our sours and love it, that's what's really exciting for me," Edwards said. "The medals are great and I won't turn down a medal any day, but I just enjoy the camaraderie and enjoying the beer."
---