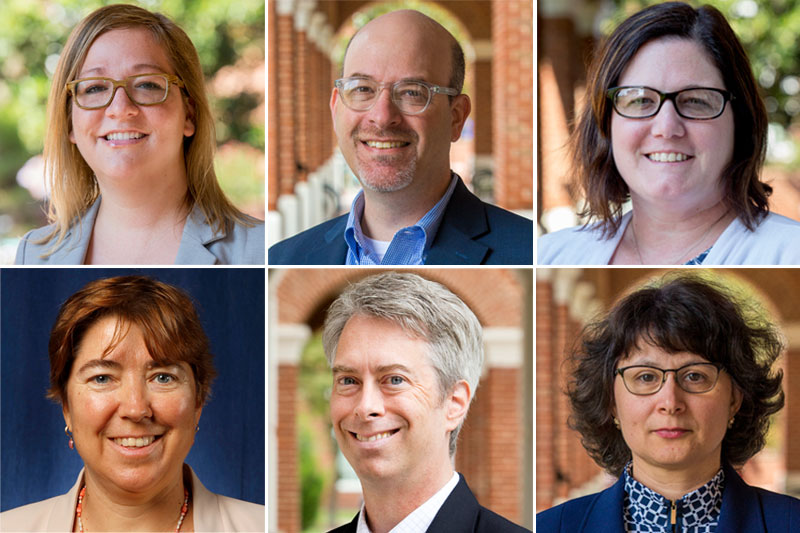 Read time:
---
The Class of 2013 established a faculty development fund as its senior class gift as a tangible way to say thank you to the professors who changed their lives. The winners of these annual awards demonstrate a record of student mentoring and excellence in service to the campus community. Each receives a $1,000 award that can be used to support professional development and/or student mentoring. This year's winners are listed below.
Jessica Apolloni, English
Apolloni plans to establish a literature and social justice initiative at Christopher Newport. The project builds on student research on community reading groups, therapeutic theater productions and after-school programs. She will also draw on her extensive work with several existing campus initiatives, such as the Global Conference on Women and Gender, to offer students new perspectives and aid their leadership abilities in personal and professional settings.
Andrew Falk, History
Falk and his students will collaborate on research for his latest book about diplomacy and humanitarianism in the era of the world wars. Students have reviewed declassified State Department documents, transcribed oral history interviews and collected news articles, and will help Falk organize the material during the writing and editing phase. The award will also fund student travel to archives in Washington, D.C., and to academic conferences.
Linda Ficht, Business
Ficht will purchase education resources required to maintain her law license. This will enable her to continue providing invaluable legal career assistance to students in the Pre-Law Program, as well as those enrolled in business law courses in the Luter School of Business.
Lynn Lambert, Physics, Computer Science and Engineering
Lambert will fund events sponsored by CNU's Center for Innovation in Science Education (CISE). Through CISE, CNU students visit nearby schools for interactive robotics, engineering and computer science activities. The award will also support the annual STEM Community Day, which brings approximately 5,000 people to campus for demonstrations, competitions and other activities.
Chris Loy, Sociology, Social Work and Anthropology
Loy will use the funds to facilitate student socio-ecological research on the Chesapeake Bay. The project examines how local cultural beliefs and practices in watermen communities both encourage and hinder adaptation to changing environmental circumstances. The award will help defray students' costs for meals, lodging and travel.
Iordanka Panayotova, Mathematics
Panayotova will purchase high-speed computing equipment to support a wide array of interdisciplinary research with students. Her projects emphasize the versatility of mathematics in multiple scientific areas, including the environment, medicine and brain disorders. The funding will enable her to expand the scopes of projects, implement and test models more effectively.
---