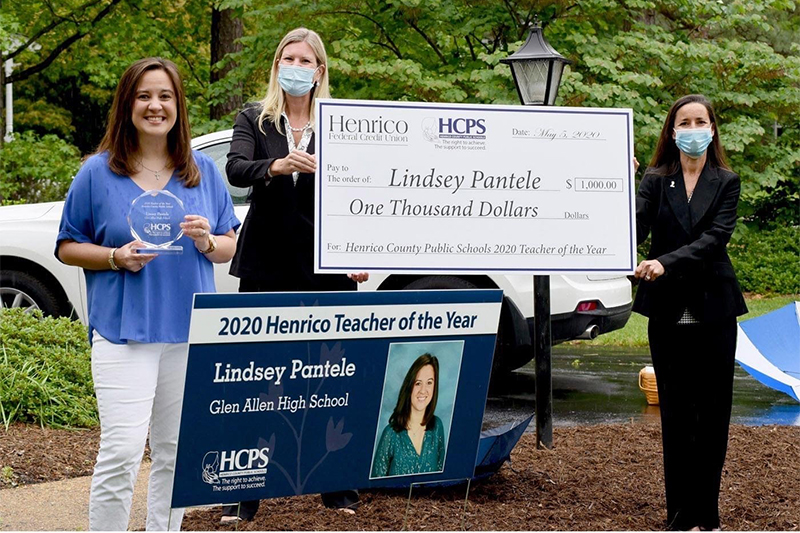 Read time:
---
Lindsey Pantele ('09, '10) had dreamed of becoming a teacher long before it was time to think about where she would attend college. The sterling reputation of Christopher Newport's master of arts in teaching (MAT) program sealed the deal that this was the place where she wanted to earn the degrees that would launch her career.
Pantele graduated with her bachelor's degree in English, and then again the following year with her teaching degree. Ten years later, she has been named the Henrico County Public Schools (HCPS) Teacher of the Year, the top honor in the 50,000-student school district.
Pantele teaches a variety of English courses at Glen Allen High School, as well as at the school's Center for Education and Human Development, which offers advanced courses to students with specific educational and career goals.
She took time out of the busy end-of-the-school-year schedule to answer our questions.
How does it feel to be named Henrico County's Teacher of the Year?
Surreal, yet it's incredibly exciting! To be in the same category as the other finalists is so rewarding in itself because they are rockstar educators. I truly believe that HCPS is the best county with the best teachers, and I'm so blessed to be able to work here, especially since this is the county I grew up in. I went to Gayton Elementary, Byrd and Pocahontas Middle Schools, and graduated from Mills E. Godwin High School in 2005.
There were so many teachers who pushed me to believe in myself and set their expectations high for all of their students, and I can't thank them enough for that. I would be remiss to not take the time to mention some of the educators who played a significant impact on my life: Coach Mark Seidenberg, Mary Bruner, Carol Ward, Chip Carter, Marina Andueza, Annalise Mayer, Cherral Moore and so many more. To come back and work in the county that shaped me means everything.
Every time someone asks me, it's so hard to put into words, but I'm very blessed and grateful to represent the incredible faculty and staff at Glen Allen High School as well as this county.
Why did you choose Christopher Newport?
First and foremost, for the MAT program. I've known I've wanted to be a teacher for a very long time, and when I was visiting schools, the MAT had the best reviews. I knew if I was lucky enough to get into the program, I'd be one step closer to being a teacher. Secondly, I knew I wanted to play tennis while in college. When [then-coaches] Jenny Nuttycombe and Joey Sutphin recruited me and I came to visit the campus, I knew her program and the CNU environment was where I wanted to be.
The campus was a size that I knew I wanted, I loved that classes weren't overly huge, and I loved that I'd be able to learn from the best professors and not just be another number in a lecture hall. No student suffers at CNU – they have the best of the best there!
How did your time at Christopher Newport make an impact on your career?
I learned who I was meant to be at CNU – it's as simple as that. I made lifelong friendships with people who stress the importance of always supporting each other through everything, the successes and the shortcomings, and that's so important. Many of them also graduated from the MAT program, as well, and they're some of the best teachers I know.
Also, the professors, specifically those in the MAT program, as well as others, pushed me to be the best student and person I could be. Each and every one of them had high expectations and they expected us to meet them. I think that's such an invaluable lesson I learned from them and I can't thank them enough. Dr. Mai Lan Gustafsson taught me the power of compassion and dedication to students. She came to numerous tennis matches and was always available in and out of her office hours to help or listen. I model a lot of what I do in my classroom today after many things that I learned from her and her sociology and anthropology courses. Dr. Scott Pollard taught me how to write and appreciate the editing process. He taught my senior seminar class, Food in Literature, and it was challenging yet so enjoyable.
All of the English professors ignited my passion for literature and writing, and it's because of their enthusiasm for what they teach that I'm able to do the same in my classroom. In the MAT program, Dr. Marsha Sprague, Dr. Deb Farina, Dr. Judy Pantelides and Dr. Jean Filetti showed me what phenomenal educators looked like. Their passion, drive and dedication to education is nothing short of admirable. I absorbed so many things in their classes and I don't have any doubt in my mind that I wouldn't be the teacher I am today without the numerous lessons I learned from each of them. Every student who has the privilege of graduating from this program is beyond ready to teach because of these fabulous professors. My experience at Christopher Newport is unmatched!
---