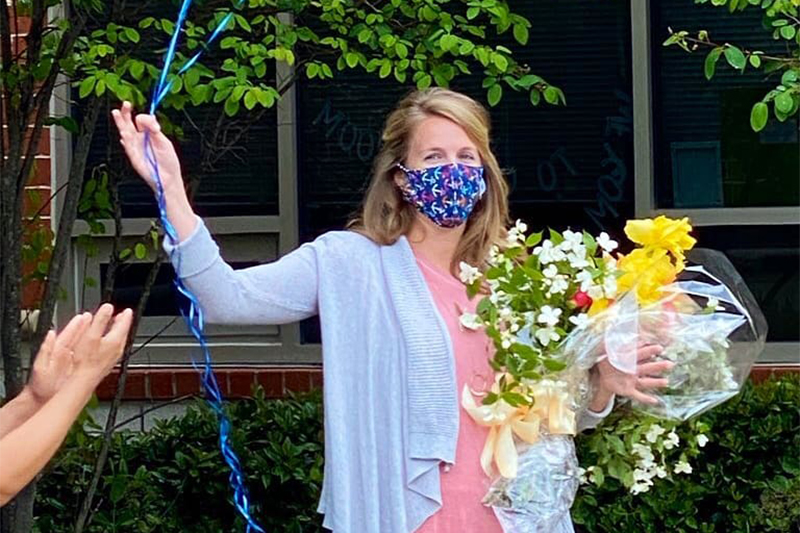 Read time:
---
Lauren Gibson Ayers graduated with her bachelor's degree in psychology in 2010, then stayed for a fifth year to earn teaching certification through Christopher Newport's master of arts in teaching (MAT) program.
She's living her dream as a third-grade teacher at Flat Rock Elementary School and has been named teacher of the year by Powhatan County Public Schools. She and her husband, Travis '09, live in Powhatan with their two daughters, Julianne and Evelynn.
She took time out of her busy end-of-the-school-year schedule to answer our questions.
How does it feel to be named Powhatan County's Teacher of the Year?
I am truly honored. I have always had the passion for teaching and now I get to live that dream everyday. As teachers, we work really hard for our school kids, and to be appreciated for that and to have the thank you is huge.
Why did you choose Christopher Newport?
The main reason I chose Christopher Newport was because of the MAT five-year program. I knew I wanted to teach and had initially started out as a math major, hoping to teach secondary mathematics. I soon realized that was not for me and went back to the elementary level, which is where my heart had really always been.
I also fell in love with the beautiful campus when touring – even if it did have some of the older buildings that the students today wouldn't even know about! It was a peaceful campus that seemed so "small town" in the middle of a busy city, and I loved having both worlds. Growing up in the tiny town of Buffalo Junction, Virginia, I wanted to get out of my comfort zone and try something new. Newport News seemed to be a great fit; far enough away, but not too far that I couldn't get home easily. It also helped that the beach was close by!
How did your time at Christopher Newport make an impact on your career?
The MAT program was such an amazing program and experience that I'll cherish forever. It was like a new family that you receive and never lose, even after graduating. I still stay in contact with so many of my fellow teachers and the professors, and I just love that CNU family feel. After completing this program (field experience, education classes, volunteer hours, etc.), I felt very prepared and ready for the world of teaching. I can't thank CNU, the MAT program and the wonderful professors enough for the inspiration and preparation they provide. I'm forever a Captain!
---