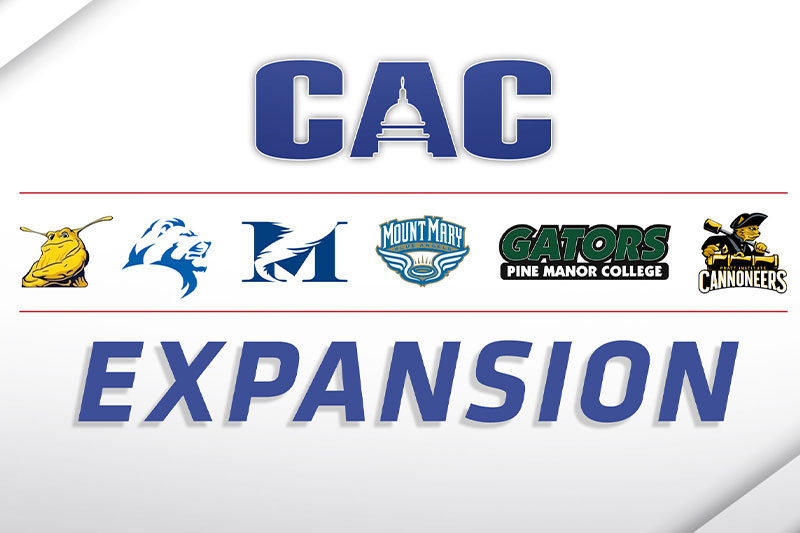 Read time:
---
Christopher Newport University will be one of the founding institutions of a newly imagined Capital Athletic Conference (CAC) as it undergoes improvements and an expansion that will give Captains an opportunity to compete against teams from across the United States. The conference announced plans today to expand to 11 member institutions, as league officials introduced six schools that have accepted invitations to join the CAC, and that will become official members effective June 15.
The CAC board of directors voted unanimously to offer full membership to the six members of the American Collegiate Athletic Conference (ACAA). The new CAC members include:
University of California, Santa Cruz
Finlandia University (Michigan)
Mills College (California)
Mount Mary University (Wisconsin)
Pine Manor College (Massachusetts)
Pratt Institute (New York)
The CAC will now comprise 11 full-time members for the 2020-21 academic year. The conference will then reduce to eight in the 2021-22 academic year when Southern Virginia University, St. Mary's College of Maryland and Pine Manor College depart. Christopher Newport, the University of Mary Washington and Salisbury University will remain in the CAC along with the incoming members from the ACAA.
Christopher Newport football will continue to be a member of the New Jersey Athletic Conference.
"I am thrilled that as the collegiate athletics landscape continues to evolve at a rapid pace, our student-athletes will be able to maintain rivalries against Mary Washington and Salisbury while we extend our reach and competitive opportunities across the country," Christopher Newport Director of Athletics Kyle McMullin said. "This conference is unique. It affords our students championship experiences that they will treasure for a lifetime, while allowing Christopher Newport the flexibility to shape our schedules to best prepare our teams for success in the classroom and in competition."
The majority of Christopher Newport's athletics teams, with the exception of football, began competition in the CAC in the 2013-14 academic year. The CAC was originally formed in 1989, and is a coalition of four-year, co-educational institutions.
Christopher Newport became a member of the Dixie Intercollegiate Athletic Conference in 1972, and the Captains continued as a full member when the league changed its name to the USA South Athletic Conference in 2003. The bulk of Christopher Newport's athletic programs, with the exception of football, made the switch to the CAC in the fall of 2013.
The new conference is expected to be rebranded with a new name and logo over the coming months.
More information about this is available at cnusports.com.
---