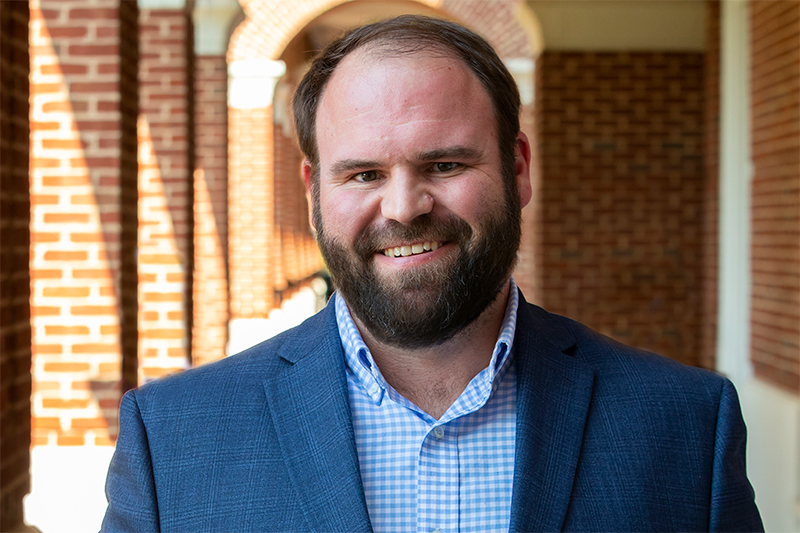 Read time:
---
Leadership and American Studies Professor Robert Colby has earned two significant awards for his dissertation about the domestic slave trade during the Civil War.
The Society of American Historians awarded Colby the 2020 Allan Nevins Prize for the best-written dissertation on a significant subject in American history. The prize is awarded annually to one of the nation's top early-career historians, carries an award of $2,000 and offers the winner the chance to publish with a leading academic press.
The Society of Civil War Historians awarded Colby the inaugural $2,000 Anne J. Bailey Dissertation Prize.
"These are tremendous well-earned honors for Dr. Colby. Our students are fortunate to have such a highly regarded emerging scholar leading their classes," said Elizabeth Busch, co-director of the Center for American Studies and Laura and Pete Walker Professor in American Studies.
Colby, who earned his PhD at the University of North Carolina, wrote his dissertation, titled "The Continuance of an Unholy Traffic: Slave Trading in the Civil War South," on the domestic slave trade during the Civil War. "My research explores the many reasons for which confederates made use of the surviving wartime slave market – and what these transactions meant for the innumerable enslaved people ensnared in them, people who found themselves sold even as freedom beckoned," Colby said.
A postdoctoral fellow in the Center for American Studies and visiting assistant professor, Colby's research demonstrates that confederates eagerly traded in slaves because they were confident their victory would produce an independent, slaveholding nation, which would make enslaved property even more valuable than it already was.
Dealing in slaves also allowed confederates to navigate wartime crises, most crucially giving them the opportunity to sell away enslaved people who threatened the slave system by seeking freedom. Many African Americans thus experienced sale and separation from loved ones; even after the war ended, these wartime sales continued to shape the realities of freedom.
Colby noted that Americans are still wrestling with the meaning and legacies of slavery and the Civil War.
"Understanding the fervency with which confederates bought and sold slaves – and the ways in which people emerging from slavery had to navigate the effects rippling out from those transactions – offers a chance for us to grapple afresh with our nation's past, to truly see the depth of the wounds we have to heal as we pursue a more just present," Colby said. "It is also a chance to tell a story that has remained virtually unexplored and to bring new faces, voices, and experiences into the story of America's most transformative moment."
At the University of North Carolina, Dr. Harry L. Watson, Atlanta Distinguished Professor of Southern Culture, was Colby's dissertation adviser. "The Allan Nevins Prize brings outstanding recognition to Robert Colby for his deeply researched and carefully crafted work on the Civil War slave trade," Watson said. "I salute him for this extraordinary and well-deserved achievement."
---