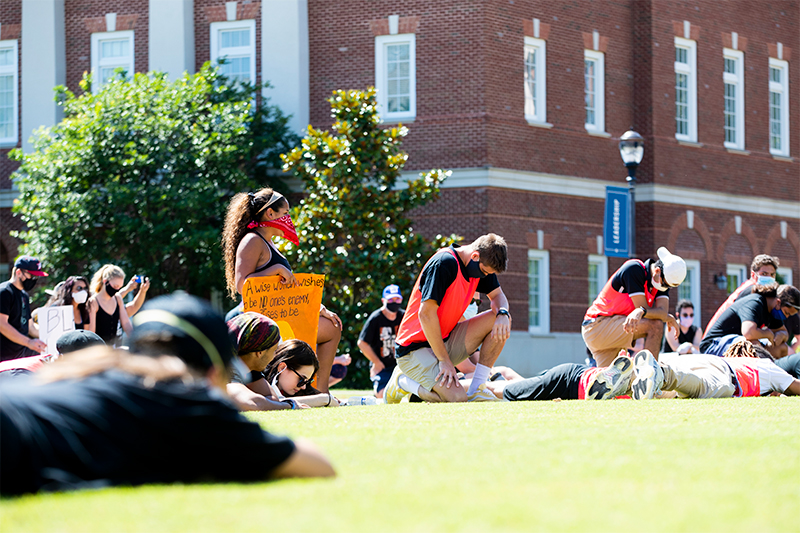 Read time:
---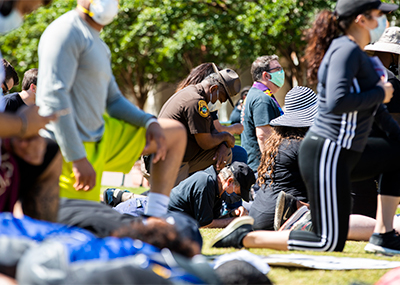 Hundreds of Christopher Newport students, alumni, faculty and staff participated in a march and observance in support of Black Lives Matter and to protest the murder of George Floyd.
Student-athletes Justin Wilson '21 and Kyan HoSang '22 organized the peaceful and emotional event that began and ended on James River Field. It featured a march winding through campus and a meaningful and memorable gathering on the Great Lawn.
Participants were asked to lie down, kneel or bow their heads for eight minutes and 46 seconds, to remember the time that Floyd was pinned under a police officer's knee before his death.
"I felt a lot of love," Wilson told the Daily Press, tears streaming from his eyes. "That everyone is coming together ... they don't fully understand what it means to be black, but they are all standing right here. That means a lot."
Chants by participants as they marched through campus included "Black Lives Matter" and "say his name: George Floyd." Wilson and HoSang are soccer players and many Captains coaches and athletes joined in the event.
President Paul Trible and Newport News Sheriff Gabe Morgan, a member of the Board of Visitors and chair of the university's Council on Diversity and Inclusion, walked with the students and participated in the Great Lawn observance.
"I stand with our students. I wanted to say loudly that Black Lives Matter. It's time to end police brutality and racism in this country," Trible said.
---