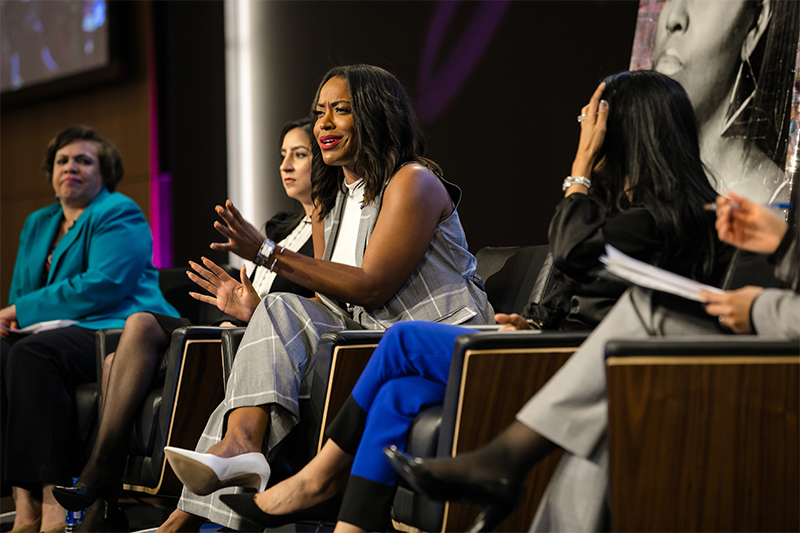 Read time:
---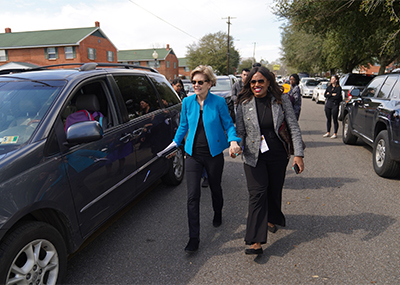 The eight months that Alencia Johnson '09 worked on Senator Elizabeth Warren's presidential campaign were a whirlwind tour across the United States.
She campaigned for Warren on national television and, on a student's invitation, during a visit to Christopher Newport. She connected celebrities, experts and faith leaders to the campaign.
In March, Johnson marched in Selma, Alabama, alongside Warren, activist Stacey Abrams and the late U.S. Representative John Lewis:
"Congressman Lewis traveled from his sick bed in Atlanta to Selma to commemorate 'Bloody Sunday', as he did every year. This time was different, as it seemed he was passing the torch to all of us who were there. I get emotional thinking about the front-row seat to history I've been blessed to have, including many times with Congressman Lewis sharing his wisdom with my generation."
Those experiences all contributed to Johnson's overall goal for Warren's campaign as its national director of public engagement. For months, she worked to get the word out about Warren's numerous policy proposals – a signature of the campaign.
"Alencia Johnson was an integral part of our campaign to make big, structural change for America's families," Warren said. "I'm grateful for the advice and counsel she gave me as we pushed for transformational ideas to confront some of the biggest challenges in our country.
I'm thrilled to see the incredible work she will do as she starts her new business and continues the fight for social, economic and racial justice."
Now, the communication major is embarking on a new undertaking as the chief impact officer and founder of 1063 West Broad. The Washington, D.C.-based agency specializes in the intersection of culture, impact and purpose, connecting brands, organizations and people to mission-driven solutions.
Johnson began honing her skills during her busy four years at Christopher Newport. She was a cheerleader for three seasons, a student ambassador, and a member of the President's Leadership Program and Delta Sigma Theta Sorority, Inc. She served on the Multicultural Student Association, Student Government Association, the Student Union Board and the Minority Student Task Force.
She spoke to leaders on campus to advocate for issues Black students faced, always finding – or making – a seat at the table for herself.
"I did spend a lot more time in my extracurriculars, which, to be honest, all made me such a better leader in my community and in navigating the political world and fighting for social issues," she said. "People of differing opinions were able to come together at the table. That's where I learned how to make 'good trouble,' as Congressman John Lewis said."
She initially planned to go into the news industry, hoping to become a political analyst or commentator. During an internship with Norfolk-based WTKR television station, a reporter advised her to move to Washington, D.C. to learn the ins and outs of politics.
With that in mind, after graduation, she secured a position at GEICO's corporate headquarters as a communication specialist. There, she executed the company's social responsibility communications, connecting the organization with advocacy groups, legislators and the community.
Still eager to dive deeper into the political world, she connected with the communications team for President Barack Obama's re-election campaign in 2012. She connected other politicians, activists and entertainers with the campaign in order to reach constituents.
Johnson booked the Rev. Al Sharpton, Valerie Jarrett and other charismatic leaders on television and radio appearances to promote Obama's policies.
"Most of the time, it's not the message, it's the messenger that people resonate with," Johnson said about the biggest lesson from that role. "You could have two people saying the same thing, and one might penetrate better with a community."
Once the campaign ended, she returned home to Virginia and spent time with her family while she sought her next role. She then moved to New York City and joined Planned Parenthood Federation of America and the Planned Parenthood Action Fund, where she similarly engaged with political, media, entertainment and corporate organizations and influencers.
She created the constituency communications team, focusing on engaging communities of color, young people, members of the LGBTQ community and people of faith. As director of public engagement, she worked with the entertainment industry and corporate America, finding ways to connect on conversations about reproductive health care and gender equity.
While at Planned Parenthood, she also worked with Hillary Clinton's campaign on strategies to engage women voters. She also represented the organization on television, appearing on MSNBC numerous times.
Six years in, she was set to begin her own business using all those skills. Nonetheless, she began initial conversation with the Warren campaign. Months later, Warren gave a powerful speech about Black women and health care which compelled Johnson to join the campaign.
As national director of public engagement, she used all the tools she'd sharpened in her career. To strategically roll out Warren's policy proposals, she had to use tactics to receive media coverage, secure endorsements and help plan in-person events.
Campaigns are fast-moving machines, and Johnson got underway immediately. She helped launch Warren's criminal justice reform plan, making sure the right activists, faith leaders, formerly incarcerated people and other important voices were heard during its development.
She worked to ensure the marketing pieces had the proper components, and that the unveiling event would include the voices and perspectives of people of color, a prosecutor and someone involved with post-incarceration rehabilitation and jobs.
Some days involved being behind the scenes, while others meant being a spokesperson.
"There's so many defining moments of my career, but those eight months really pulled together many of the things I believe in as well as pushed me on how to actually make them come to life," Johnson said.
After long days, she was ready to work for herself when the campaign ended. She launched 1063 West Broad, named after her grandmother's street in Danville. Its branding is orange, representing her grandmother, Ozella Bennett, and her ancestors.
Through 1063 West Broad, Johnson works with politicians to help spread their message to their target audience. She helps companies navigate both external and internal conversations about racial justice and equity. She crafts strategic communication strategies for executives and CEOs in order for the leaders to be inclusive and authentic. She also connects pop culture influencers with causes and social issues they are passionate about.
Most recently, she was named as one of five external members of Warner Music Group/Blavatnik Family Foundation Social Justice Fund board of directors. The group will decide how to invest $100 million in charitable causes related to the music industry, social justice, education, and campaigns against violence and racism.
Much of what drives Johnson is her deep Christian faith, which she says was fostered by her community during her time at Christopher Newport, and her strong belief system. Her time as a Captain reinforced a lesson from her grandmother that she still follows today.
"My grandmother taught me: don't ask for permission; ask for forgiveness. And I feel like that was also my learning from CNU. What it taught me is that at the end of the day, so long as you are on the right side of justice, you should continue to fight and use your platform to do as much good as you can. CNU taught me the responsibility of having a platform and influence." Good trouble.
---