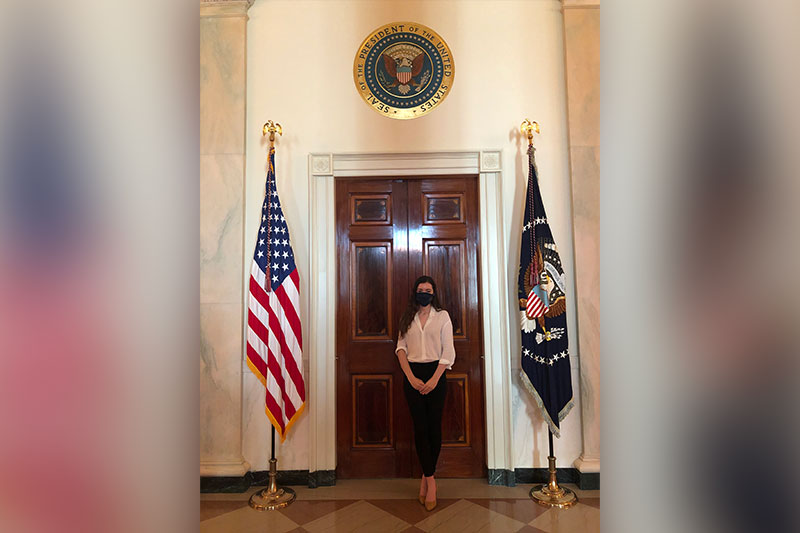 Read time:
---
When she received word that she'd been named a 2020 White House intern, Kristen Ziccarelli '21 had no idea she'd be helping keep senior White House officials informed about the country's response to a pandemic.
Ziccarelli, a double major in political science and finance and member of the Honors Program, got the notification in early March. That was about a week before most of the country began shutting down due to COVID-19.
The internship started a few weeks later than planned because of the pandemic, but Ziccarelli still managed to make a big impact. She interned in the Office of Intergovernmental Affairs, which is responsible for maintaining relationships with governors, mayors, county executives and other state and local leaders.
Her team helped maintain a database of COVID-related needs down to the state and local level to ensure those requests were met. "Most of what I did had to do with research and updating the office on the federal government's response to COVID throughout the nation. There were lots of press conferences and briefings that we tried to stay up-to-date with as best we could," she said.
"Considering the circumstances, I had no idea what to expect. And you only know about the White House what you can read. So I really didn't know what to expect – but the program blew my mind. Just the amount of opportunities that I had, and that I was able to do it in person, was so incredible."
As a future public servant, Ziccarelli was able to use both of her academic focuses in the role. Through her political science coursework, she knew the history and context of policies of the current and past administrations, and she joked that she didn't expect her Microsoft Excel skills learned in Software for Business would be so important.
The most memorable experience, she said, was when all the White House interns gathered to take a group photo with President Donald Trump. "It was really a breathtaking moment to have that opportunity to meet him," she said.
The internship solidified her desire to help others, something she thinks would apply for any future intern, regardless of their intended career path.
"I would recommend the internship for anyone regardless of their path because, for me, it's a foundation for something greater in the future," she said. "Above all, I want my work and leadership to impact the most amount of people I can in a positive way.
"And I think doing something like this makes you realize how complicated and how diverse the nation is and how complex some problems are. It's so incredible to see up close how the leaders of today are handling things like this historic event."
---