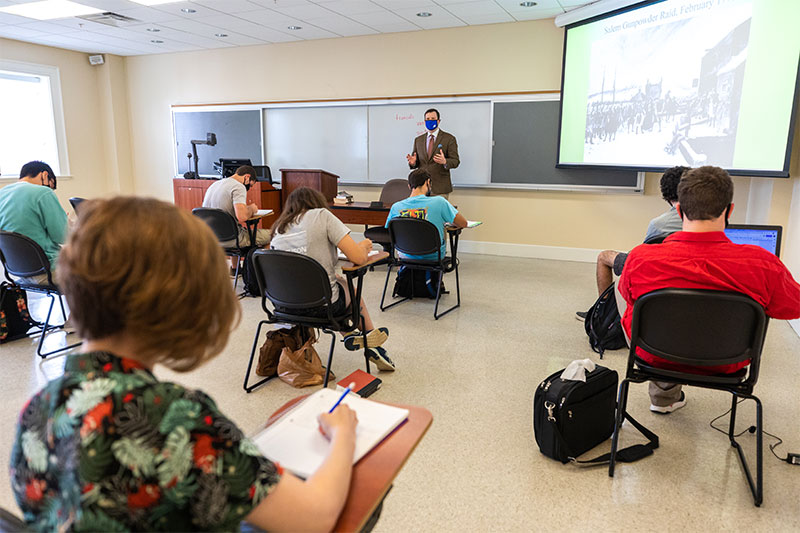 Read time:
---
In 1781, Alexander Hamilton led American artillery troops to victory at the Battle of Yorktown, helping seal the defeat of the British in the Revolutionary War. Two hundred thirty-nine years later, and just a few miles away, Christopher Newport students are studying and analyzing the founding father's actions through a modern lens of the award-winning musical about his life.
Dr. Frank Garmon Jr.'s American studies capstone seminar is using Hamilton's life as told by both Ron Chernow's hefty biography and Lin-Manuel Miranda's hit, Hamilton: The Musical.
To start the semester, all 15 students watched the groundbreaking and record-smashing rap-based musical film about Hamilton's life and death during the United States' early years. Assigned readings include Chernow's biography, which was the inspiration behind the musical, and some of Hamilton's own writings, which are voluminous. His collected works span 27 published volumes.
"There are big questions about Hamilton," said Garmon. "Was he an egalitarian or a man of the people, as he's suggested in the musical? Was he an abolitionist? How strong were his antislavery views? What was his view of the government's role? When we hear the song about the Constitution, he has a new plan of government, but there's no description of what's in it. What would Hamilton's government look like if he'd had his way?"
The 400-level writing intensive course is a senior capstone for American studies majors, a way to synthesize years of learning about the American experiment from an interdisciplinary perspective. The major incorporates the study of political science, economics, history, literature, art, film and women's studies, among other fields. Students read deeply in these areas, and through research learn to think and write critically about the nature of American life.
The class assignments include two analytical essays, one about the musical itself and the other about Hamilton's life, legacy or interpretation. Garmon opened the course to non-majors, given the popularity of the musical and potential for learning across disciplines. Students from a wide range of majors enrolled in the course, including Erin Little and Conor Maguire, both theater majors. Their technical training in lighting and set design help lend a different perspective to the class.
"It's been interesting to learn about the historical accuracy of the actual musical and how much time he put into it, how many years it took him, and finding out about every single historical event and how it happened in more detail," said Maguire.
---