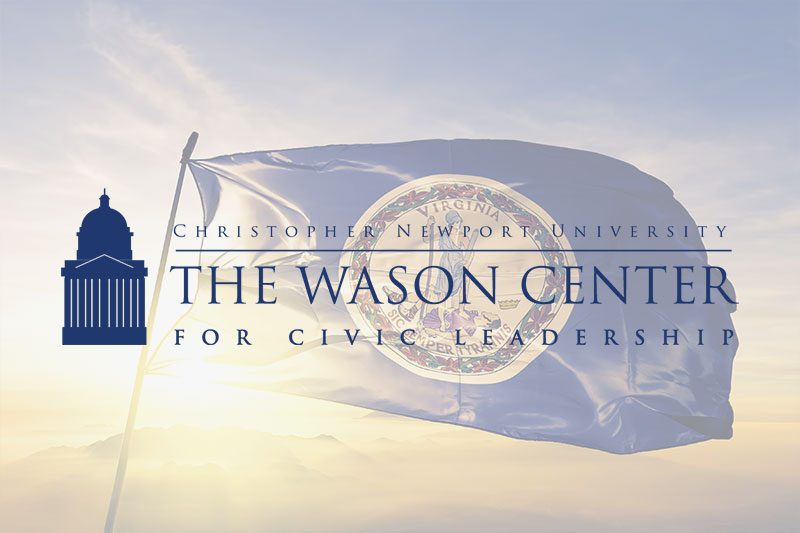 Read time:
---
At a time when Virginia and the nation need it most, the Wason Center is making a transformational commitment toward inspiring the next generation of civic leaders.
The Wason Center for Public Policy is adding new programs to prepare students to serve the commonwealth and country in leadership roles. The center's new name reflects this commitment as it is now the Wason Center for Civic Leadership.
Through the generosity of Judy and Harry Wason, the center will also offer a new scholarship to high-ability, civic-minded students. The inaugural class of Wason Scholars will enroll in the fall of 2021. They will have the opportunity to gain real-world experience through the center's programs while earning a dual degree with a major in a favored subject and a companion major in leadership studies.
The center's programs will provide experiential learning opportunities in intimate settings with the commonwealth's most successful civic leaders, such as:
The Distinguished Virginians program that will recruit a cohort of distinguished Virginians who are having or have had a significant impact on the civic life of our commonwealth to directly engage and mentor small groups of students.

The Civic Leadership Speaker Series that will host prominent statewide and national leaders from a variety of backgrounds to challenge Christopher Newport students and our whole community to value and build a community where evidence-based decision making, integrity and mutual trust prevail.

A digital platform to help connect current students with mentors in their chosen fields. Mentors will host skill-building workshops that will help them find policy-oriented jobs in Richmond and Washington, D.C.
The center will be guided by a new advisory board – a group of the commonwealth's most successful civic leaders. They will offer insight on the center's programs and recruit prominent Virginians to mentor and inspire students.
"No matter what profession they choose, our nation needs leaders who will listen to their fellow citizens and have empathy for their struggles. We believe this scholarship and new Wason Center will produce a new generation of leaders committed to thoughtfully addressing and finding solutions to our toughest problems," said Judy Wason.
"Judy and I sincerely thank President Trible for his leadership in making this very important program possible," said Harry Wason.
"We are so grateful to Judy and Harry Wason and the civic leaders who joined our new advisory board. Our new Wason Center for Civic Leadership will build on our successful survey research by adding important programs that will inspire students to become the civic leaders we so desperately need," said President Paul Trible.
---