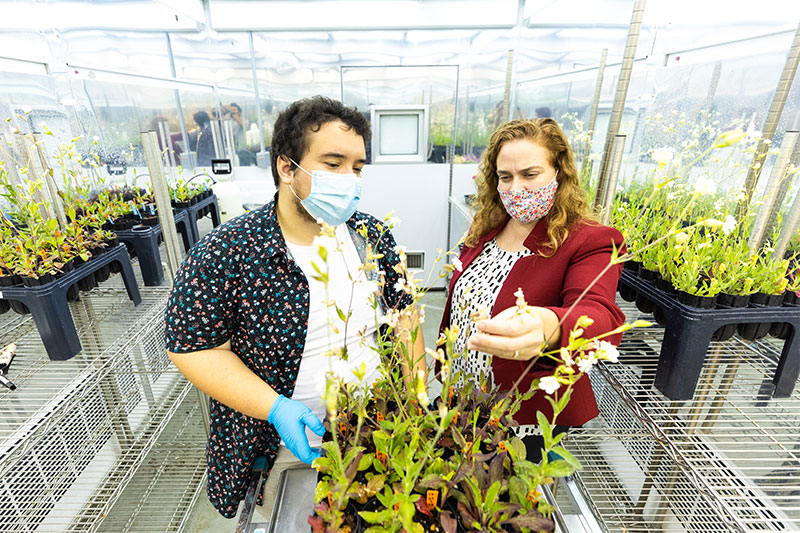 Read time:
---
Environmental science major Lucas Sharrett was awarded first prize in the Torrey Botanical Society Undergraduate Student Research Fellowship Competition for his work on floral scent and its role in the pollination of Silene, a flowering plant with over 900 species.
While biologists have long studied how pollinators like bees and moths co-evolve with flower color, size and nectar production, measuring floral scent and its attractiveness to pollinators has been more elusive, according to Dr. Janet Steven, associate professor in the Department of Organismal and Environmental Biology and Sharrett's research adviser.
Sharrett's work uses gas chromatography and mass spectrometry to analyze scent and pinpoint which compounds are critical for attracting specific pollinators. He learned these techniques during a summer research excursion to Rocky Mountain Biological Laboratory in Colorado as part of the National Science Foundation Research Opportunity for Undergraduates Program. The $1,500 Torrey prize will enable him to fund the continuation of his work in Christopher Newport's botany labs.
"By analyzing the scent emissions in two closely related species of Silene, we can better understand how the emissions and scent composition have evolved from a common ancestor through pollinator selection," Sharrett said.
"Lucas' work will be an important contribution to understanding how transitions from daytime to nighttime pollination may be shaped by floral scent," said Steven.
Sharrett completed his undergraduate studies in environmental biology in May 2020 and is enrolled in the master of science in environmental science program.
---