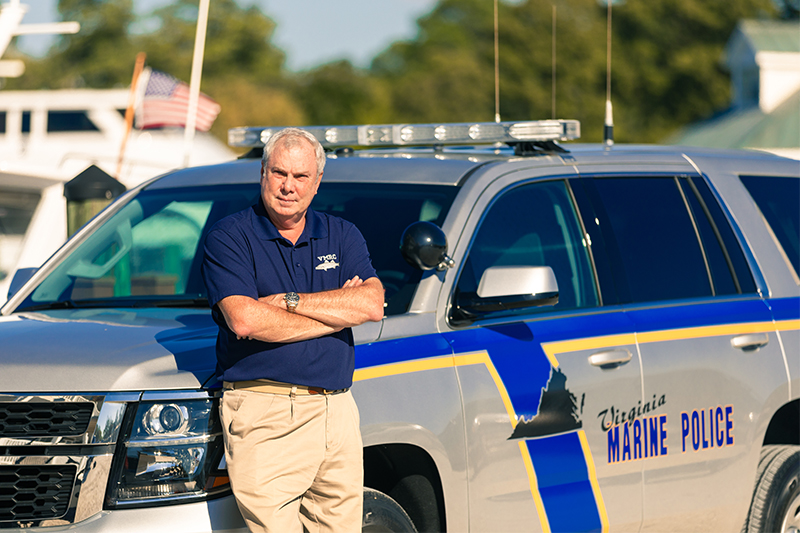 Read time:
---
Steve Bowman '04 is Virginia's commissioner of marine resources, appointed by governors Ralph Northam, Robert McDonnell and Tim Kaine. His three terms as commissioner have been sandwiched around a stint as chief of police in Smithfield, his home since 1982.
Bowman offered to answer our questions about his important leadership in helping to manage Virginia's natural resources.
So, what does the commissioner of marine resources do?
In my position, I wear two distinct hats. First, I serve as chairman of the Marine Resources Commission. It is a nine-person citizen board that meets monthly to make case decisions on fishery issues and waterfront development matters. We have the regulatory authority to make laws related to matters under our jurisdiction. We hear everything from cases involving the regulations pertaining to catch limits for fish to the approval of such large projects as the Hampton Roads Bridge Tunnel.
Secondly, I serve as the chief executive of a state agency with over 150 employees. This agency has four divisions that work to ensure we uphold our mission as stewards of Virginia's marine and aquatic resources and protectors of Virginia's tidal homelands for present and future generations. I lead a fishery management division that focuses on the sustainability of a number of species of fishes, shellfish such as oysters and clams, and crabs.
The second division is our Habitat Management Division that works on matters from approving small residential piers for waterfront property owners to the largest structures that cross the commonwealth's waterways, from bridges to pipelines.
The third is our largest division, the Virginia Marine Police. The officers perform search and rescue missions and enforce maritime regulations in the Tidewater area by land, sea and air.
Finally, our Administration and Finance Division handles office functions and supervises our headquarters located on Fort Monroe.
For a small agency, we do a great deal.
With so much of our economy - fishing, tourism, transportation – sharing a precious part of our environment, there are bound to be conflicts. What are the challenges?
We have a number of emerging issues we are confronted with. The ever-changing migration patterns of the fish we manage requires us to ensure our commercial fishermen continue to receive a fair allocation of catch. We are also working very hard to combat the effects of sea-level rise and coastal erosion. At the present time, by virtue of a number of laws passed by the General Assembly, we are educating our constituents on the benefits of utilizing new methods to protect our wetlands such as living shorelines. Through these best management practices, it is our hope that we can work to preserve habitat for our shoreline birds and other organisms.
So you're in the enviable position of being able to go fishing or for a twilight cruise and consider it work?
I do get out on the water fairly regularly either with work or for pleasure. I am fortunate to live on the water in Smithfield and I recreationally boat frequently. I believe this exposure allows me to keep my finger on the pulse of the responsibilities I have as well as see my constituents from a customer service perspective.
What about your days as a Captain prepared you for your profession?
My memories of the years at CNU are truly fond. I came to CNU as a transfer student after having been out of higher education for over 14 years. To say I was terrified is a gross understatement. However, the care and attention that my teachers and fellow students afforded me made me feel welcome and provided an atmosphere that allowed me to succeed in achieving my dream of graduating with my bachelor of science in governmental administration in 2004.
The professors required a great deal of open-thought dialogue. As a career law enforcement officer, sometimes one can fall into a lapse of what I would call a perception vacuum. You think only what you experience … good and bad.
The university experience allowed me to interact with students who were much younger and frankly more enlightened than I was. Their ideas, brought out by dialogue with the professors, were truly inspiring and helpful. I came away a better person for the experience that I had. I rely on those experiences to this day when making some of the tough decisions that come my way.
The campus has changed significantly since I first arrived in 1995. Back then, the campus and university seemed to be working to find its identity as it was transitioning from what was once a commuter college to the prestigious university it has become. This is not to say there was not clear direction and planning. Under President Trible's guiding hand, there was progress being made on a regular basis to improve the buildings and grounds that would be attractive to parents and students that would visit. And what a transformation this has been.
My regret is that I did not have the opportunity to enjoy what CNU has to offer today in the way of updated facilities. I have returned to CNU many times since graduation to attend football games and to attend functions. My most recent visit was to the David Student Union to address the Rotary Club of Oyster Point prior to the COVID-19 outbreak.
Final thought?
My life experiences have convinced me that my diploma is like a piece of stock that only improves in value over time. CNU4EVER. Go Captains!
---