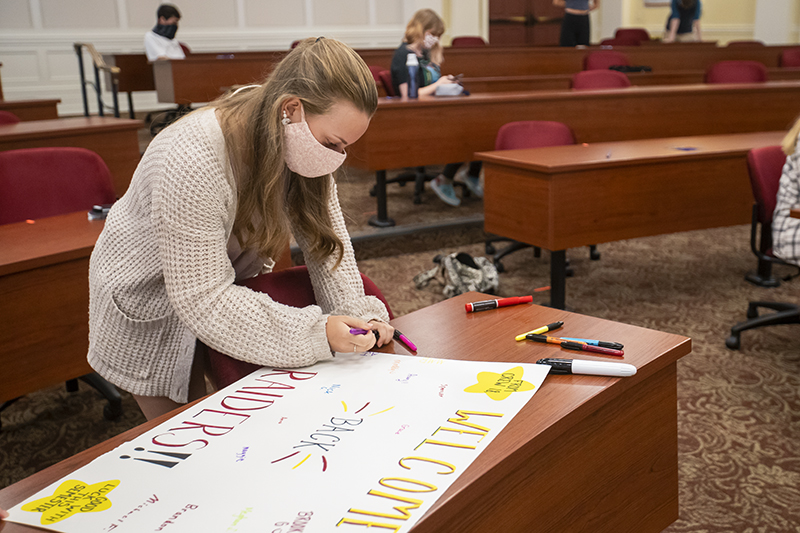 Read time:
---
When thousands of Newport News Public Schools (NNPS) students returned to their virtual classrooms this fall, Christopher Newport students were there for them.
Captains spent many hours during the annual Day One of Service volunteer event creating videos for the school district, waving signs and sending warm wishes for a new but unusual school year.
Once Newport News students were back in school, Christopher Newport continued to grow those partnerships. Captains partnered with NNPS teachers and students to provide tutoring. Social work students worked to mentor on the emotional, rather than academic, side. Clubs on campus worked to pair with similar NNPS clubs so students of all ages could learn from one another.
For its part in the efforts to work together, NNPS named the Center for Community Engagement (CCE) a 2020 STAND Community Champion. STAND is the NNPS student-led campaign to promote positive culture within its schools and prevent bullying and harassment. The award recognizes CCE's work to partner Captains with the school district, enhancing students' experiences in a positive way.
The CCE and NNPS' Youth Development Department have worked together to make it happen – like a family, said Vanessa Buehlman, director of the CCE.
"This work resulted in the strongest relationship the center has ever had with NNPS," said Buehlman. "The connection we have made with Youth Development Director Bridget Adams and Youth Development Specialist Christina Buckingham '11 has been just nothing short of a miracle. They are 100 percent partners in this relationship."
Buehlman said she started working closely with the department last year, before the COVID-19 pandemic struck. Those conversations became discussions about virtual volunteer possibilities and blossomed into the robust partnership now.
The holistic approach of doing more than the typical academic support means there's room to grow in every conceivable direction – if a middle school chess club wants to connect with chess players at Christopher Newport, it will happen.
"It's such an honor for them to recognize us in this way," Buehlman said. "It's so much more than the award. I think we have a really special partnership going right now and it's really exciting. I just think the thoughtfulness and intention that has gone into everything we're creating is really special."
---