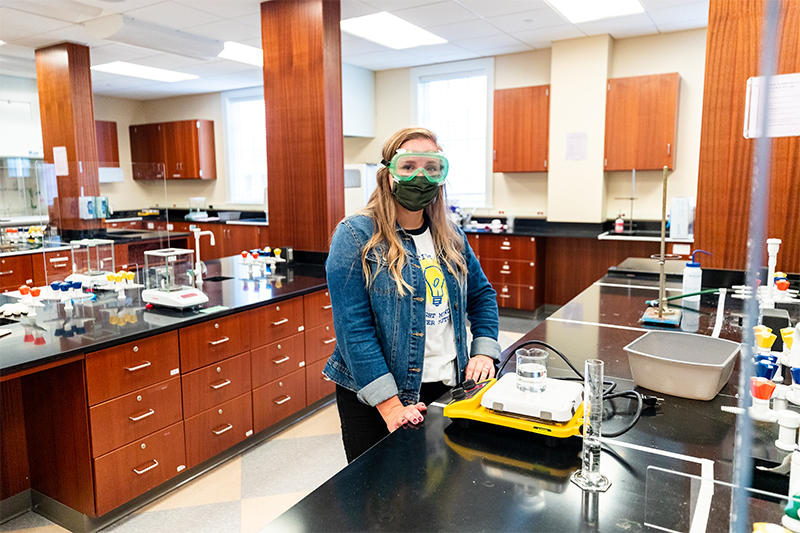 Read time:
---
Biology major Kayla Kamper put her love of helping others into action by launching Innovative Minds, a student service organization that brings STEM learning to Boys and Girls Clubs near campus. Kamper and her roommate, Katy Ingalls, started the group during their freshman year as a way to give back to their new community.
"I have always valued serving others," Kamper, a senior in Christopher Newport's Honors Program, said. "But it was not until I became a Captain that I experienced the true impact service can have on a person."
Innovative Minds introduces children to basic scientific principles through fun, interactive experiments that Kamper and her colleagues hope will pique curiosity for further learning. They use tried-and-true demonstrations like baking soda volcanoes (and a similar one that leads to exploding lemons) and building ramps for toy cars to show real-world physics concepts. "We want to help these kids learn to love science and education, by providing fun activities that are different from what they do every day," said Kamper.
After Kamper and Ingalls launched Innovative Minds, the program grew quickly as more CNU students – and more Boys and Girls Clubs – came on board. Before COVID-19 restrictions began in March, Kamper says the group had grown to 40 volunteers serving four locations in the city. They had also started bringing groups of local high school students to campus for projects in the labs of Forbes and Luter Hall. The pandemic curtailed their in-person activities, but Kamper and her colleagues launched a YouTube channel and continue their work virtually.
Kamper reflected on her experiences leading Innovative Minds as part of her work in the civic engagement Honors Inquiry class, in which participants in the Honors Program earn academic credit for service: "It has been my good fortune to get to know these kids and learn about who they are. Building relationships is so important. One girl told me she wanted to be a scientist so she could help her sister, who has diabetes. She asked me questions about college and said she wanted to study science like me. ​Seeing and hearing about the impact Innovative Minds is making is inspirational."
Kamper cites her work with Innovative Minds as having real benefits for her own growth as well. "I have learned a lot about managing an organization and planning and implementing experiments that are fun for the kids we work with," she said. She recounts how one young participant decided after one science lesson to impart some knowledge of her own. "A little girl decided I needed basketball lessons. She spent half an hour 'teaching' me how to play," said Kamper. "It was so amazing to see her learning how to teach and communicate to me how to play better. That is what motivates me to keep developing new ways to be involved."
Kamper is also quick to share credit for the success of Innovative Minds. "Our volunteers are our bedrock and come from various majors, interests and involvements," she said. "I think that is one of our greatest strengths. They inspire me to stay passionate about our cause and remember why we all are there."
Kamper will complete the Honors Program and graduate with her biology degree in May. She is also in the President's Leadership Program and completing a minor in psychology. She plans to attend graduate school for occupational therapy next fall.
---