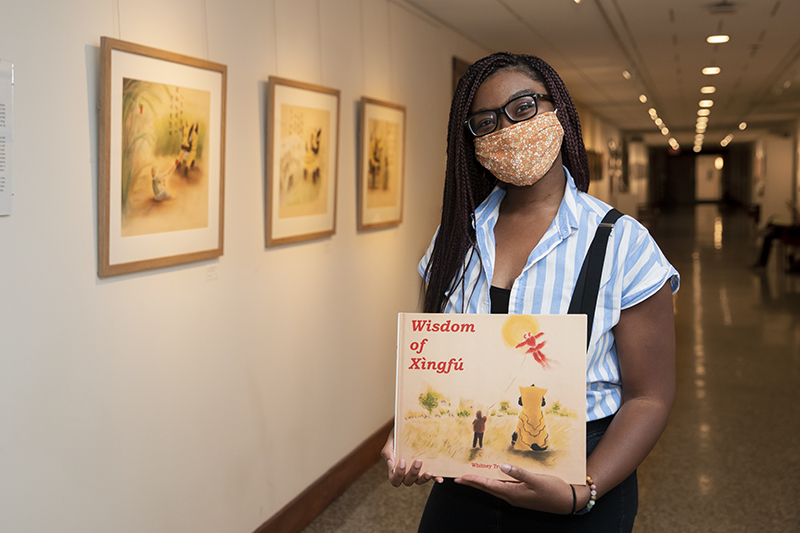 Read time:
---
Before her senior year even began, fine arts major Whitney Truitt had already accomplished one of her major career goals: becoming a published illustrator.
Using charcoal and chalk pastels, plus help from a range of Christopher Newport professors, Truitt wrote, illustrated and published Wisdom of Xìngfú. The children's book follows an imaginative companion named Xìngfú, whose purpose is to bring happiness and good fortune. The story is inspired in part by Truitt's Chinese studies at CNU.
Truitt's book combines positive affirmations collected from fortune cookies, which promote self love and motivation, with Chinese culture and traditions. Xìngfú is inspired by the traditional Chinese southern lion costume used in ceremonies to promote good fortune throughout the year.
"It's so exciting to have my own book of my own work. I'm really glad I did it," Truitt said. "Honestly, I don't think I would've even made a book if I had gone to another university."
Truitt illustrated the book in her capstone studio art course. She said the art faculty encouraged her to create the work in the form of a book, as her goal after graduation is to be an illustrator.
Dr. Christi Harris, associate professor and chair of the Department of Fine Art and Art History, worked with Truitt to help lay out the story in a clear manner. Truitt consulted with Dr. Kevin Shortsleeve, associate professor of English and an expert on children's literature, for further guidance on how a children's book should be formatted.
While Truitt is studying simplified characters in her Chinese coursework, Dr. Jonathan Smith in the Department of Modern and Classical Languages and Literatures helped her accurately translate Xingfu's story into the traditional language.
Once the illustrations were complete, Dr. Alan Skees, associate professor of digital arts and new media, helped Truitt photograph them in a high-quality format worthy of publication. Skees has worked with Truitt for years in graphic design and printmaking classes, and was excited to see her combine her illustrating talents in painting and drawing with her design skills.
"I've worked with a few authors in the past on book formatting and cover designs, and I had many conversations with Whitney about how to go about planning her own project," said Skees. "It was always a pleasure to see her lush drawings. The book turned out very nicely. I bought a copy for my kids and they enjoyed it very much."
Truitt did not originally plan to study Chinese, but her interest in East Asian culture and past study of Japanese led her to give it a try. She found that the book's positive messages were particularly relevant in the difficult circumstances many have faced in 2020.
"One of the biggest takeaways I learned about Chinese culture in general was the importance of living a virtuous life and unity, living in harmony," she said. "I feel like this year is proof enough that it's very important. Even though it's tough and we have all these challenges, you've just got to remember the importance of having self-love and staying together. We're all in this together."
---