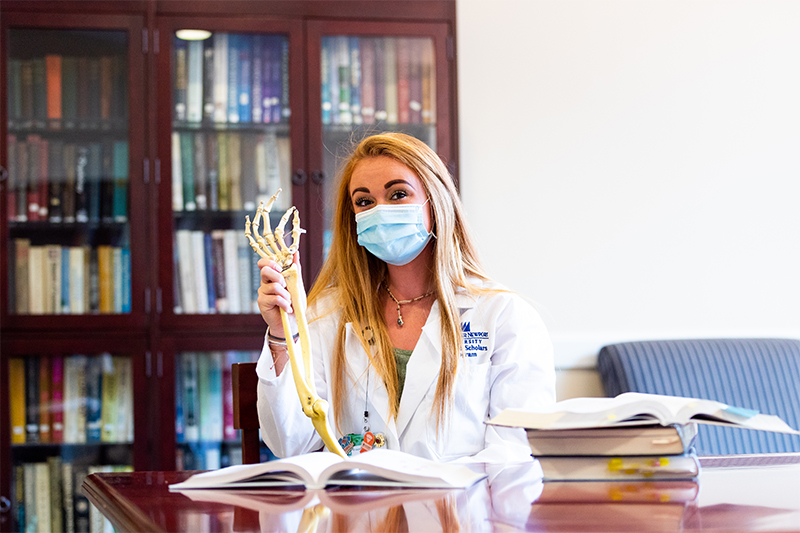 Read time:
---
Neuroscience major Catherine Hall gained valuable hospital experience during the COVID-19 pandemic that will help lead to physician assistant school after graduation next spring.
The Honors Program senior from Chesapeake worked at Riverside Regional Medical Hospital in Newport News after returning home in March when campus closed down. As a patient care assistant, Hall's job was incredibly variable. She worked as a customer service associate, transported patients throughout the hospital and trained to perform a secretarial role in the back of the emergency room as needed.
A key task for patient care assistants is to check patients in, check vital signs and perform an electrocardiogram if needed. If a patient is having a heart attack, the time between arriving at the emergency room and receiving an EKG is vital. Hall received a Riverside "Heart Saver" award for outstanding care of a heart attack patient for immediately taking a patient to receive an EKG and into the catheterization lab in under 40 minutes – the goal time for the highest chance of saving a patient's life.
Hall's time at Riverside followed a previous summer job as a medical transporter, further solidifying her desire to work in emergency medicine.
"Working within the emergency room, I have learned a great deal and acquired a wide variety of skills both medically and on how to interact with others," she said. "Working in the emergency department requires continuous attention and is the fast-paced, continuous work that I need for my personality type. Expanding my line of work into the hospital setting has proven that emergency medicine is exactly where I would like to start my career after the conclusion of physician assistant school."
---