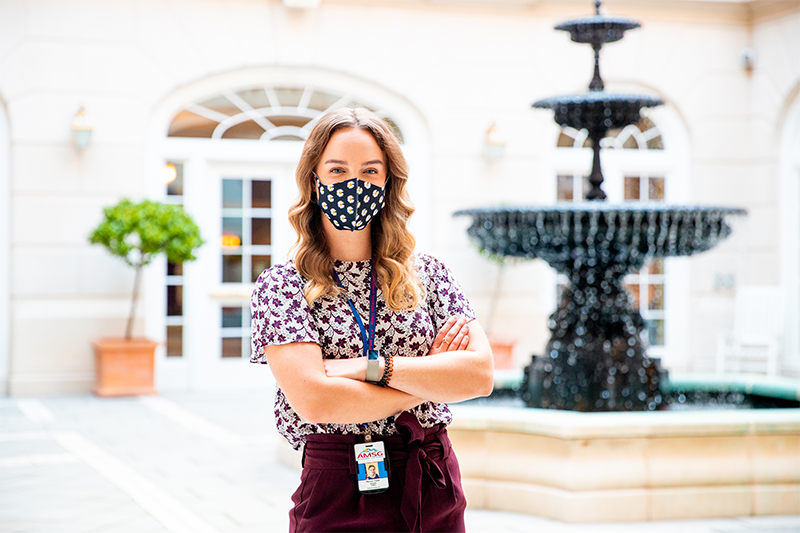 Read time:
---
Madison Taylor '21 used an internship at Advanced Management Strategies Group (AMSG) to refine her career path. As a communication and leadership studies double major, the Honors Program senior found the organizational management and interpersonal communication skills gained through her studies made her well-suited in her role as proposal coordinator at AMSG.
She managed an array of departmental projects, which included document creation/editing, technical writing, coordination between team members and partner companies, meeting creation and calendar management and overall office management.
"I felt I was well equipped for the tasks delegated to me, and moreover, my majors prepared me with the ability to adapt – and increased my comfort level when responding to new and unfamiliar tasks," she said.
The complex field of government contracting requires a great deal of experience and certifications in order to fully understand the process, Taylor says, and each company has unique procedures when it comes to managing workflow and cross-communication between teams. She worked with dozens of external companies and assisted in various proposals throughout the lifecycle process from capture to submission.
As a result of the heavy workload of the department and experience she received, she grew more confident in the steps she needs to take after graduation to further her career in government contracting. For Taylor, that includes pursuing higher education in business administration, as well as training for certifications in proposal process, proposal management, and business quality management.
"I am extremely grateful to have had the opportunity to work for AMSG, especially given the current economic climate," Taylor said. "Being involved in this field of work at such a highly stressful time has definitely allowed me to dive further into responsibilities than a typical intern at the company and see what the position would really entail. My position has been instrumental to my future career path, and I am excited to see where this opportunity will lead."
---