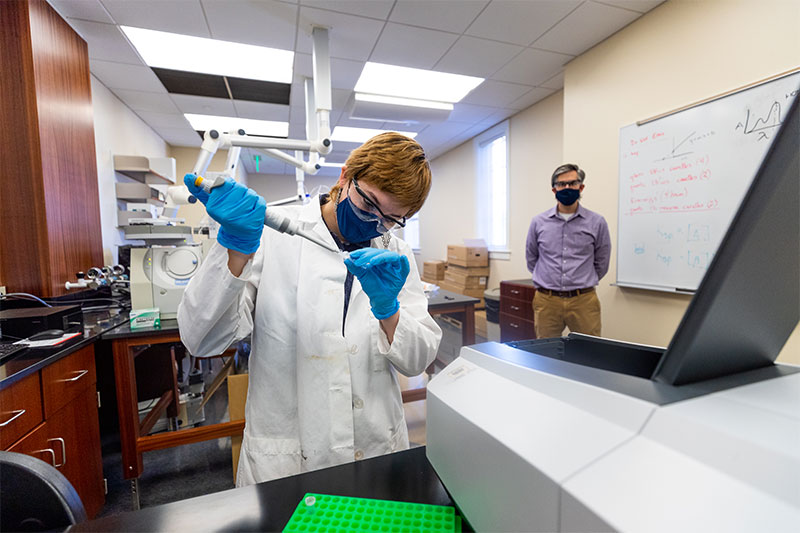 Read time:
---
Cellular and molecular biology major Madeline Clark is one of only 20 college students in Virginia to be awarded an Undergraduate Research Grant by the Virginia Academy of Science (VAS). Clark's project involves a cancer treatment that specifically targets tumors while reducing damage to healthy cells. It's a way to fight the disease that, unlike chemotherapy and some other treatments, isn't itself nearly fatal.
The method – gene-directed enzyme prodrug therapy – delivers genetically targeted enzymes to a patient's tumor. Doctors then administer a prodrug, an inert form of a drug that is activated when it interacts with the enzymes. The resulting compound targets the cancerous cells with limited damage to surrounding healthy cells. Clark, a CNU senior, has been working on her project under the mentorship of chemistry professor Dr. Todd Gruber, an expert in designing engineered proteins to combat pathogens.
"Despite continuous medical and technological advances, cancer continues to take countless lives all over the world," Clark said. "Working in Dr. Gruber's lab has been incredibly rewarding, and I have been able to hone practical lab and instrumentation skills as well as supplement my biochemistry knowledge through hands-on research."
Clark's work involved developing computational models of how prodrugs interact with different enzymes, then monitoring their performance in combining to form the compounds that are successful in attacking cancer cells.
"The pandemic disrupted Maddie's plans over the summer when she was a Summer Scholar, but she persevered and was still able to make an impact on the research through her computational studies," Gruber said. "Her work is exciting because we can learn how these prodrugs interact with their target protein, and use that knowledge to improve the overall system to deliver anti-cancer drugs safely."
"Everyone can list a way in which cancer has impacted their life or the life of a loved one, and I am extremely grateful to have had the chance to contribute to research on how to fight it," Clark said.
She will present the results of her research project at the 2021 Virtual VAS Annual meeting in May, just after graduating from CNU with her bachelor's degree. She plans to pursue a PhD in biochemistry in the fall.
---