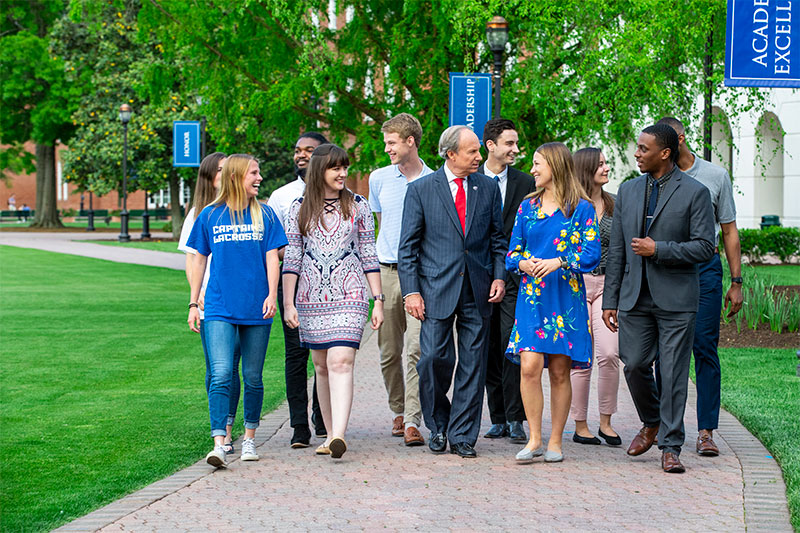 Read time:
---
Bobby Hatten, Rector of the Board of Visitors, sent the following message to the Christopher Newport community.
---
America's great colleges and universities do not spring from the air like orchids, but they do frequently spring from the extraordinary, transformative vision and energy of a solitary man. In the 18th century, Hampden Sydney College had as its founding father, Patrick Henry, a visionary lawyer and politician. Likewise, the University of Virginia had its Thomas Jefferson, another visionary lawyer and politician, and William & Mary had its George Mason, again a lawyer and politician. Fortunately for us, in the 20th century, Christopher Newport University found Paul Trible, a lawyer, a politician and like Henry, Jefferson and Mason, a patriot and a dreamer.
Paul dreamed of creating a public university that could incorporate the values and intimacy of his alma mater Hampden Sydney, a University that could rival the splendor and inspiration of the University of Virginia and a University that could match the reputation and academic excellence of William & Mary. But in 1995 when Paul Trible was appointed President of CNU – a man with no academic experience – no one in America knew his dream and if they had known it, they would have laughed out loud at its sheer preposterousness.
At that time CNU was a fledgling University full of good intentions, a small but committed faculty and eager students, but it had no money to build with or expand its programs, no academic reputation, no gymnasium, stadium or football team, no architectural splendor to inspire students, and no vision of where it was going or what it could be. As Yogi Berra once said, "if you don't know where you are going, you might not get there."
But Paul Trible knew where he was going and he never stopped dreaming of a bigger and better university and he never stopped making it happen. Year after year success was piled onto success. His skills as a lawyer and a politician more than made up for his lack of academic experience. His love for this University became contagious.
Yes, everyone loves a winner, but Paul was a winner because he also loved everyone associated with making this University into a powerful, beautiful and exciting fortress of learning. No small part of the success of CNU is due to the simple fact that Paul Trible is a beloved and respected man due to the fact that his dreams are now our reality. That transformation happened because of Paul's extraordinary dedication, personal skills, hard work and commitment to CNU. And that combination continues to inspire and challenge the students, the faculty, the Board of Visitors, the alumni, the local community and the entire state of Virginia. Like everyone says, "CNU is a SPECIAL Place." That is true and the "special" part begins with the personal friend that we all have in Paul Trible, a man who changed all of our lives as well CNU. This month we celebrate 25 years of Paul's leadership and CNU's success. That success cannot be briefly summarized, but the following short list of his accomplishments during the past 25 years include the following:
|   | 1996 | 2020 |
| --- | --- | --- |
| Full-time Students | 2,920 | 4,739 |
| Freshman H.S. GPA | 2.8 | 3.8 |
| Retention Rate (Fr to So) | 69% | 87% |
| 4-year Graduation Rate | 11% | 69% |
| 6-year Graduation Rate | 35% | 80% |
| Full-time Faculty | 166 | 287 |
| % Classes of 19 or Fewer Students | 44% | 61% |
| Library Volumes | 330K | 1.2+M |
| Operating Budget | $34M | $172M |
| Endowment | $300K | $50.7M |
Over $1 billion in capital construction creating one of America's most beautiful college campuses.
As Rector, fellow Hampden Sydney classmate, law school classmate and devoted friend for 55 years, I extend to Paul the great thanks and appreciation of CNU's Board of Visitors, the faculty, the students and the alumni for his transformative leadership and accomplishments.
---