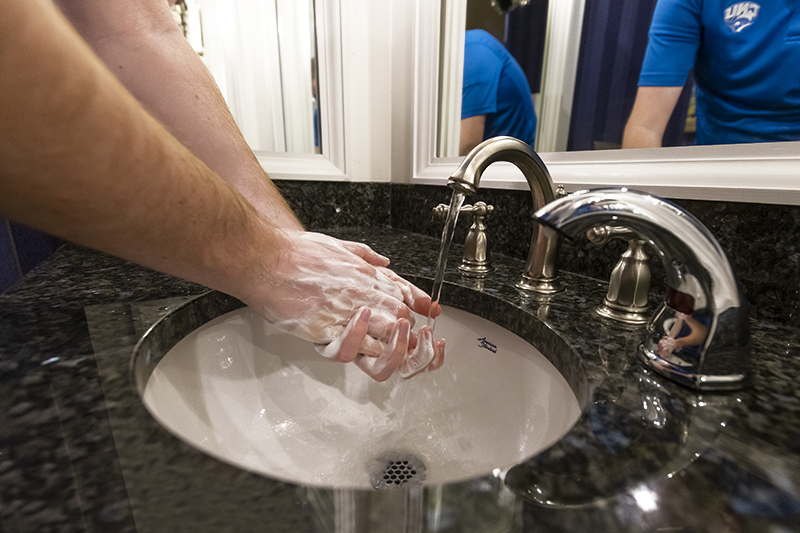 Read time:
---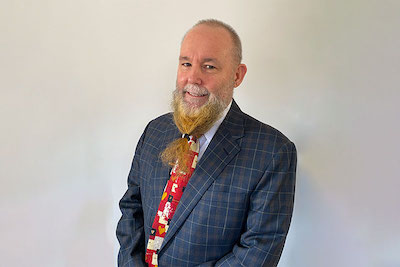 Before he was a national handwashing expert, Dr. Thomas D. Berry helped Americans adopt better seatbelt habits.
He conducted research for General Motors on vehicle dashboards and instrument display panels to remind drivers and passengers to use their seatbelts.
Those dings and lights that helped reinforce good habits are still firing 25 years later, a satisfying note for Berry each time he climbs in a car. They also sparked his curiosity into the psychology of risk reduction through habit formation.
"My research on handwashing is my continued investigation and curiosity on why and how people place themselves at risk, and then how we design a better world to prevent injury and sickness while promoting safety and health," Berry said.
The associate professor of psychology has conducted handwashing research for a decade and for the past five years has investigated habits, such as coughing, sneezing and face-touching behaviors, that help transmit pathogens. By focusing on both risky behaviors and good habits, health psychology can help people better prevent sickness and encourage healthy routines.
Handwashing wasn't something we thought about much. Then COVID-19 came along and suddenly Berry's know-how was in demand.
He leads by example. Berry carries hand sanitizer and notices what his hands have touched, such as door knobs and keyboards. Any time he washes his hands in public he can act as a role model for anyone at a nearby sink, silently displaying technique throughout. While not a compulsive hand washer, he says, his research has led him to practice good habits.
"I have trained myself to not touch my face or eat without first washing my hands or using hand sanitizer," he said. "Because of this internalization, I have drastically reduced my yearly frequency of colds and other illnesses."
Berry has been consulted as an expert and was interviewed about handwashing and COVID-19 by CNN last year for Global Handwashing Day. He cautioned then that while humans are motivated to remove obvious filth and grime, it's harder to fight something like an invisible virus.
He said then that people should employ strategies to reinforce handwashing habits, such as putting signs up at home and learning more about the virus.
Berry says those techniques are more important than ever – even with the distribution of vaccines.
"Over the next few months, we should stay vigilant and motivated in following the health and safety guidelines: wearing face coverings, social distancing and washing hands are paramount to controlling the spread of COVID-19," he said, "As the nation becomes familiar with the rollout of the vaccine, and we feel the relief set in, I strongly recommend to everyone to not drop their guard. Until you are vaccinated, you are at risk of a COVID-19 infection, and so are your friends and family who are not vaccinated.
"Thus, we need to become role models and leaders in following the health and safety guidelines. We must show and remind others (as role models) about the importance of wearing face coverings, social distancing and handwashing – and support and encourage others to get vaccinated."
He cautioned that could take longer than expected; he knows well that past public safety campaigns around seatbelt wearing took a surprisingly long time to take hold in the nation's psyche. Inconsistent health messaging around COVID-19 left people confused and scared, he said, which led to hesitancy and uncertainty about undertaking preventative measures.
"However in 2021, I am hopeful we will see a focused and consistent national health message regarding face coverings and vaccines," Berry said. "Such a national message will begin leading the nation out of this horrible and painful pandemic and initiate the healing everyone needs and desires."
As for Berry, he'll continue his steadfast handwashing and seatbelt clicking. His life's work leads to longer lives, and the hope for everyone's better health and happiness.
---