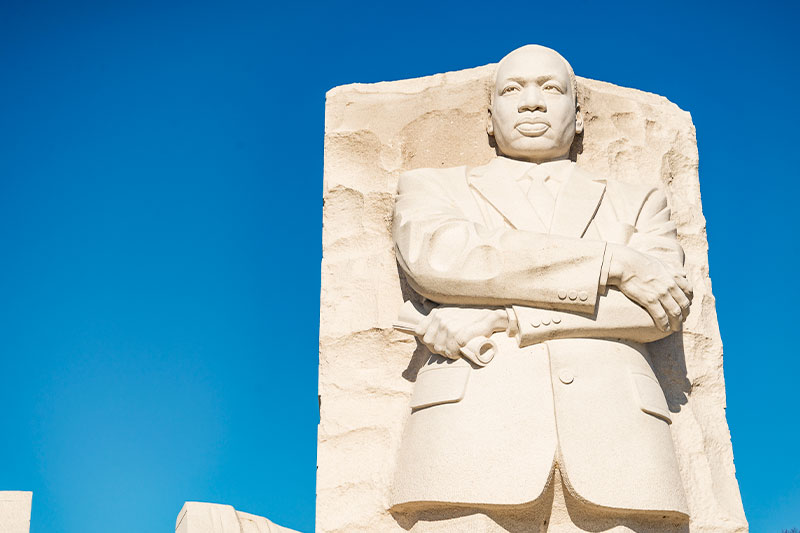 Read time:
---
In honor of Dr. Martin Luther King Jr.'s legacy, chief diversity, equity and inclusion officer Dr. Angela Spranger collected reflections from some of our local community leaders. Watch their remarks below.
Sophia Nelson: Nelson is an author, journalist, political commentator and professor at Christopher Newport. She is a patriot, Constitutional expert, historian and role model, advocating for unity throughout the U.S.
Dr. Cynthia Nicholson: Nicholson is a professor in the Department of Secondary Education and School Leadership at Norfolk State University. She and her husband, the Rev. Lewis Nicholson, sponsor the W.D. Scales Endowed Scholarship at CNU.
Maria Herbert '86: Herbert serves on the Board of Visitors. She is founder and president of MCH Consulting Services, with over 25 years of experience with Fortune 500 companies and government contracting.
Vidal Dickerson: Dickerson is special assistant to the vice president of student affairs for diversity and inclusion at Christopher Newport. His focus is diversity, equity and inclusion matters related to the student experience.
Brandon Jones '00: Jones is the incoming program coordinator for the Community Captains program and will lead community engagement initiatives for the Office of Diversity, Equity and Inclusion. Previously, he served as supervisor of family and community engagement in the Petersburg City School System and supervisor of youth development for Newport News Public Schools.
Jeff Mingee '04: Mingee is pastor of Catalyst Church in Newport News. He is the author of Forgiveness: A Risk Worth Taking (A Verse by Verse Journey through Philemon), Called to Cooperate: A Biblical Survey and Application of Teamwork and a forthcoming book on exercising dominion in a digital world.
Elizabeth (Liz) Parker: Parker has almost 40 years of experience in the hospitality industry, currently serving as general manager of the Holiday Inn Newport News. She is the president of the Newport News Hospitality Association, and she is passionate about ensuring the equitable distribution of COVID–19 vaccines on the Virginia Peninsula.
Dwight and Angela McDowell: The McDowells are SYMBIS Facilitators, an assessment used as pre-marital counseling. Dwight is a certified life coach, and McDowell is a marriage and family therapist. They are the founders of marriagemapp.com, and the proud parents of Ryan McDowell '24.
Gabe Morgan: Morgan is the current sheriff of Newport News. Before he began his tenure as sheriff, he served over 21 years in the United States Army. He is a member of the Board of Visitors, and he serves as chairman of the Diversity and Inclusion Council.
Tamara Payne: As deputy garrison commander at Fort Eustis, Payne has traveled the world representing the United States and has dedicated her life to its armed services. The youngest in this position and one of few women and even fewer minorities in her role, Tamara is a first-generation American and an inspiring, dedicated leader.
Lauren Janes '21: Janes is a political science major in the Honors Program and the President's Leadership Program. She is passionate about ensuring representation for all CNU students, which she works to achieve through her position as president of the Student Government Association and her involvement with the Council on Diversity and Inclusion.
Tongase (Toni) Booth '22: Booth is in the Air Force Reserves, serves as a Black Student Union e-board member and is a Bonner Scholar volunteering in the Office of Diversity, Equity and Inclusion. A pre-med major, she is assisting with planning the CNU/Bank of America 2021 DEI Summit, researching equity issues in the American health care system.
---
The third annual Dr. Martin Luther King Jr. Oratorical Contest focused on Dr. King's speech "Facing the Challenge of a New Age." Three student finalists, Miles Ashe, Mikaela Martinez Dittinger and Sydney King, presented their remarks during a live stream. Watch the presentation below.
---