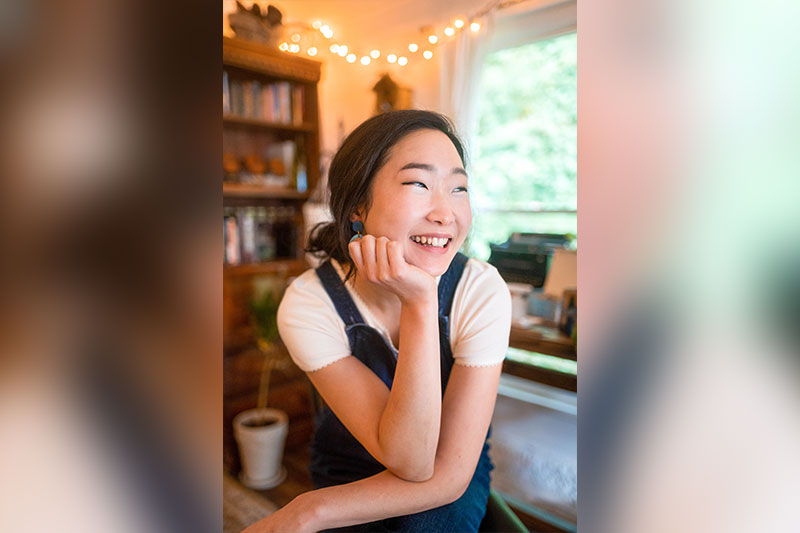 Read time:
---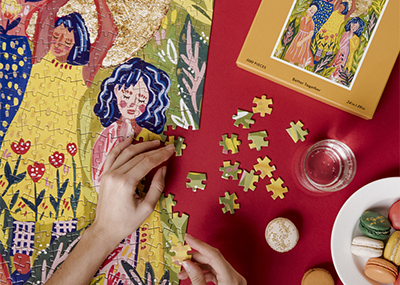 It took Rachel Chung '18 a little while to find her true voice as an artist.
As a studio art major and psychology minor, she honed her skills and perspective through her coursework, studying abroad in Scotland and attending conferences that deepened her value for art. She sold jewelry pieces made with her art to fund a mission trip to Cambodia and completed a large set of panels as her senior seminar project.
But it wasn't until she pushed herself out of her comfort zone to frequently post her art online that she fully discovered her style. Now her colorful, joyful paintings and illustrations celebrate her friendships and the beauty she finds in life in bold, rich strokes. She uses handmade paper for texture and interest, selling the original gouache, or opaque watercolor, paintings and high-quality prints that pick up those details.
And it resonated with others: her business and social media following have grown as people purchase and share her joyful paintings and illustrations that celebrate friendship, her Korean-American identity and her love of whimsical imagery.
"What I realized after college was I actually wanted to start making art more as a reflection of me as a person and my experiences and what I'm passionate about, versus making things just so that they can sell or for people to buy," Chung said. "I feel like my art now is much more a truer reflection of me. I learned I value how abundant life can be when we see with eyes of hope and when we take care of hearts with kindness and compassion. I want my art to reflect these things and give a sense of hope to those who view my work."
That success reached new heights over the summer, when a slew of followers found Chung's Instagram account where she posts both her artwork and the behind-the-scenes process. She said she had to push past her perfectionism to instead regularly share things she didn't feel 100 percent about – and followers responded in large numbers.
She further exited her comfort zone by reaching out to publications as a possible freelance artist partner. Darling Magazine, a quarterly independent women's magazine with over 335,000 followers on Instagram, used several of her works to accompany online articles. Its founder then reached out about another collaboration for a jigsaw puzzle to be sold in Darling's store.
Chung's "Better Together" painting of four women dancing in unity beneath a gold leafed sun, surrounded by colorful leaves, adorns the 500-piece puzzle. It sold out in its first day and is now on backorder.
"I felt so shocked, I just did not expect that," she said. "I was genuinely shocked but also just so grateful for all the support I've been able to receive this year and being able to meet so many amazing people through my art. I just felt really, really grateful."
Chung credited the senior seminar taught by Christi Harris, chair of the Department of Fine Art and Art History, for covering the business skills she needed to pursue her freelance career full-time.
"Even though it was a small portion of the class, I feel like this is so important and so helpful to know," she said. "That part of class and that whole senior seminar were really impactful for me. I'm really excited to see how my career goes from here."
---