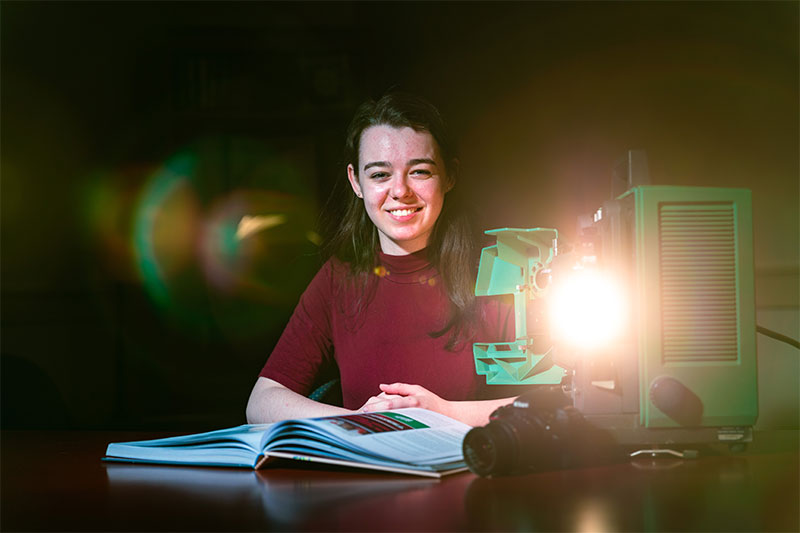 Read time:
---
When college students gather, you sometimes hear the question: What's your major? That's not easy to answer for students in Christopher Newport's growing interdisciplinary studies major.
The major could combine coursework in neuroscience and filmmaking or psychology and design or any of hundreds of other combinations of seemingly unconnected fields. In consultation with faculty advisers, interdisciplinary studies students design their own majors to meet their own interests and passions.
Nicole Garcia '20 is preparing for a career teaching English as a second language: "Through this major, I had opportunities of undergraduate research and community service in ways that were directly related to my field. This program has helped to prepare me for getting scholarships for graduate school and for teaching in the future."
Owen Schwab '22 is studying history, political science and military science.
"I felt very boxed in with a traditional major. interdisciplinary studies allows me to pursue my own interests and prepare for life after college in a special way."
Students in interdisciplinary studies usually enter the program in their second year. Their curriculum is personalized, heavy on research and culminates in a BA or BS degree. A major research project in their senior year gives students an opportunity to study their chosen field in-depth and work side-by-side with scholars.
Rachel Wagner '19 took advantage of that research opportunity: "Working with these mentors to develop my own research helped me confirm that I wanted to attend graduate school, and gave me the resources and skills necessary to be where I am today: a PhD student studying political theory at the University of Toronto."
Faculty say the program prepares students for existing and emerging careers that require insights and skills derived from diverse fields of knowledge. "Our contemporary life is full of challenges, with new ones arising seemingly every day," says Dr. Christopher Loy, program director. "A major in interdisciplinary studies will empower you to pursue the expertise needed to address these challenges."
Future filmmaker Shannon Boerner echoes Loy: "The interdisciplinary studies major has allowed me to uncompromisingly pursue the study that matters most to me."
---