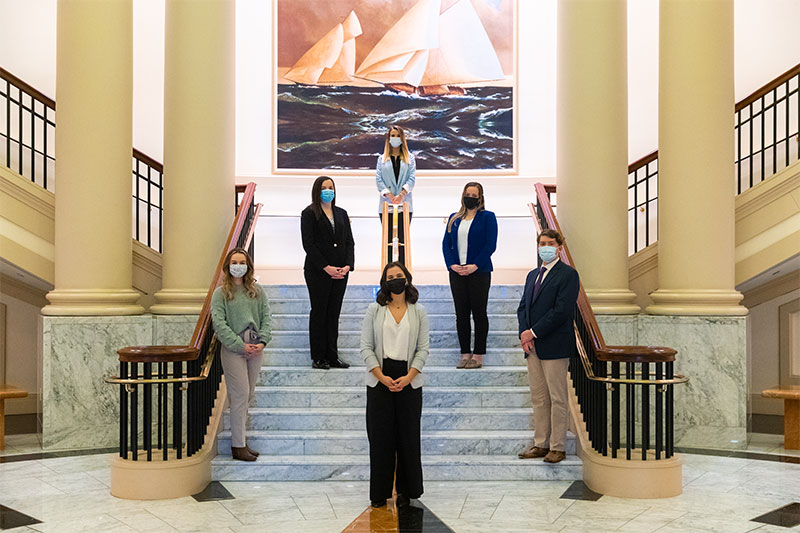 Read time:
---
The first class in a new and unique major at Christopher Newport is about to graduate with a skillset that will help them pursue a career or graduate school studies in any field.
Leadership studies was traditionally offered as a minor and it has earned national recognition for the quality of its coursework and faculty. In 2019, the minor received the Outstanding Program Award from the Association of Leadership Educators.
Leadership studies is now also offered as a companion major to other majors, giving students the opportunity to dive more deeply into understanding and applying aspects of the leadership process, from local to global contexts. Six students are in the first graduating class and will earn their degrees at commencement in May.
"Looking back on the leadership major as I'm about to graduate, I've realized that I actually learned a lot more about myself and about how leadership works throughout the world than I thought I would. I would definitely say it's better prepared me to move on to the next step and become a part of the world," said senior Jessica Nash.
Inspired by the passion for leadership demonstrated by President Paul Trible, the leadership studies faculty built a curriculum for the major that includes six required courses and four elective courses. The required courses include:
Self, Group and Leadership
Theories and Perspectives on Leadership
Leadership Through the Ages
Values Leadership
Adaptive Change and Group Processes
Leadership in Complex Contexts
"Now more than ever, our world needs leaders who can apply advanced critical and creative thinking to problem solving, strategically adapt to change, demonstrate humanistic leadership, understand a systems perspective, communicate effectively across a variety of platforms, and leverage a diverse array of leadership skills," said Lynn Shollen, chair of the Department of Leadership and American Studies. "Students build all of these capacities through a rigorous, interdisciplinary study of leadership with opportunities to put their learning into practice."
Faculty experts take an interdisciplinary approach to help students understand the complexities of the leadership process through a variety of perspectives. This interdisciplinarity of study also makes the leadership studies major highly complementary to any liberal arts and sciences or professional education. Leadership studies students often go on to law school or pursue careers in public service but as a companion major, the soon-to-be-graduates say they've learned skills that will be useful no matter what they do.
"Majoring in leadership studies has given me the ability to make the connection between the classroom and my everyday life," said Molly Croushore. "I am confident that I will be able to use the content I have learned for the rest of my life, in every situation I could possibly encounter."
Added senior Erin Stitt, "I have always been passionate about and involved in leadership, and becoming one of the first members of the major program at CNU was something I couldn't pass up. The leadership major expands on the minor to include an even more in-depth and interdisciplinary view of the world."
In addition to the coursework, students in the program have the option of participating in the International Leadership Association's student case competition. A team from Christopher Newport won that competition in 2020 after facing off against teams from universities in the U.S. and abroad.
Students may also participate in the President's Leadership Program. The signature co-curricular program at Christopher Newport provides students with a range of experiences and networking opportunities. It also welcomes them into a community of like-minded peers eager to lead and serve.
---