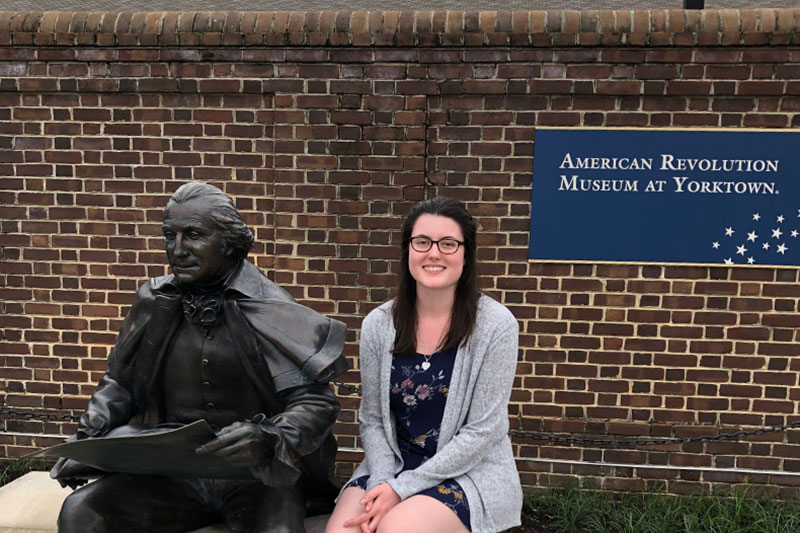 Read time:
---
Through a remote internship, senior Lauren Washburn helped uncover the history that happened right in her hometown.
The political science and history double major is from Yorktown, and through an internship with the Jamestown-Yorktown Foundation brought to life new research about early Americans. The foundation runs both the American Revolution Museum at Yorktown and Jamestown Settlement.
"Lauren's efforts provided us with a missing piece in our 18th century information and it will benefit the roughly half a million visitors that come to our museums every year," said Jamie Helmick '00, volunteer program manager for the foundation and Washburn's supervisor.
Washburn's internship comprised consulting articles, books and other primary sources on trades and apprenticeships, culminating in writing a paper on their use in 18th century in Virginia. Washburn learned that these apprenticeships in Yorktown helped both the person learning the trade, often young dependent children, and society itself.
"By teaching a trade, the apprentice learned responsibility, hard work and the ability to support themselves or others," she said. "The burden of dependent (non-apprenticed) children would be on society who would need to provide for them. Apprenticeships hoped to rid society of this financial and societal problem."
Helmick said Washburn's paper will be used as reading material for new staff at the museum, and for current staff who want to learn more about trades and apprenticeships.
"Currently, most of our interpretation of the 18th century revolves around farms and the Continental Army. This paper will allow staff to branch out into discussing trades with our guests as well, making it a more well-rounded experience," Helmick said.
After graduation, Washburn plans to pursue a master's in history to learn more about early American history and the beginnings of the country.
---