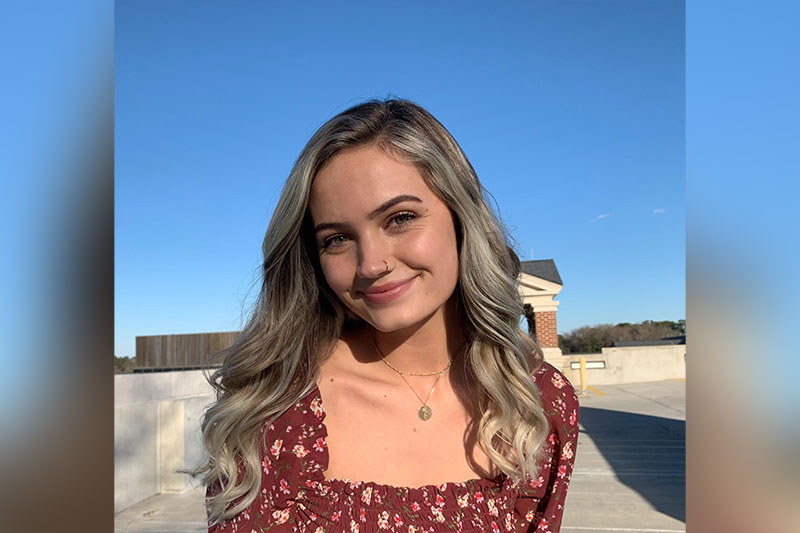 Read time:
---
Kimberly Jordan '22 is exploring a field she loves and she's getting support from an international firm that is one of the leaders in the industry.
After a competitive process, Jordan was awarded a scholarship by 10X Digital, a company based in Greenville, South Carolina with offices in Charlotte, North Carolina and London. Its clients include businesses engaged in everything from resort management to student housing.
The scholarship assists with Jordan's living expenses, books and tuition at Christopher Newport. The junior is studying communication with a double minor in digital humanities and women's and gender studies.
"Throughout the last three years, I discovered a passion for digital marketing and media," Jordan said. "I enjoy being able to explore both the creative and analytical sides and appreciate how it can be useful for practically any field."
"Kimberly Jordan is an incredibly bright student, and we are thrilled to see her hard work honored with this award," said Communication Department chair Dr. Alice Veksler.
Digital marketing is rapidly becoming an increasingly popular and lucrative profession for communication graduates. Veksler said the Christopher Newport program provides the fundamental skills necessary for success as well as coursework that provides critical context to marketers, such as:
Information about the socio-economic landscape within which digital marketers work
The persuasive effects of various language choices that contribute to shaping effective messaging
The nuances of popular culture, the value of audience analysis and engagement, and issues related to media history and social justice that are integrally important to targeted marketing work
---