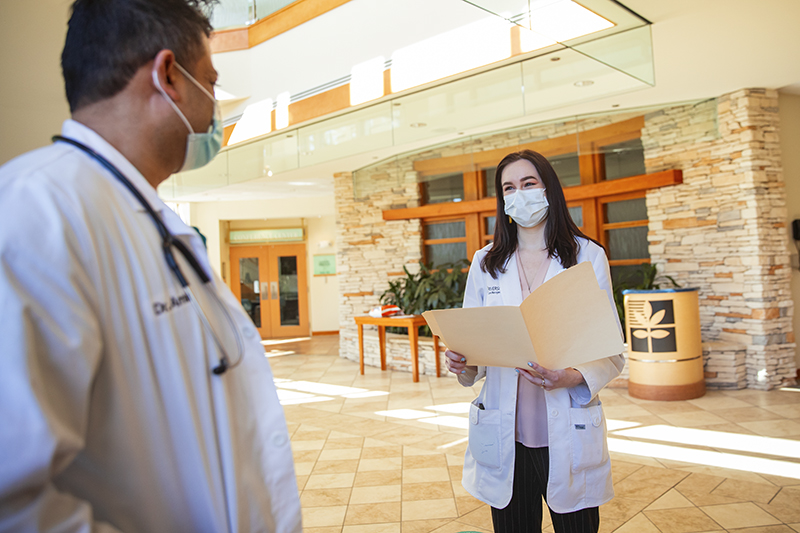 Read time:
---
At one of the most anxious moments of their lives, cancer patients and their loved ones come face to face with Miriam Stump. She's friendly, humane and efficient and you would never guess from talking with her, that this oh-so-professional worker in the white lab coat is a college student.
Stump is a senior, a social work major and an intern in the Oncology Department at Riverside Health System. With in-person internships limited and demand for help from nonprofits and charities intense, Christopher Newport students like Stump are doing critical work to serve the communities near campus.
"It is truly inspiring to consider what our students have accomplished during this pandemic," said social work program director Diane Griffiths. "They have bravely faced the challenge of doing this essential work, serving those most vulnerable."
Stump is at Riverside twice a week for a full day, serving an internship that continues through both semesters of her senior year. Working shifts as long as 10 hours, she greets and helps to process arriving patients and their families and then does the final check-out before they go home.
An important aspect of her job as a social worker is to assess the needs of patients throughout their time in the hospital and to collaborate with the multidisciplinary team of doctors, nurses and therapists to ensure quality care from admission to discharge.
Stump takes it in stride: "I try my hardest to be professional while still building and fostering personal relationships. Helping people during hard times is what social work is about. I find it extremely rewarding, especially knowing that I am making a positive impact on others. Prior to this internship, I had no idea what career I wanted with social work."
Now, with the internship nearing completion and with a mom who was a social worker and a step-dad who is a cancer survivor, the road ahead is clear: "Through the past few months I have definitely decided on working in the clinical/hospital environment, as well as with oncology." Her first stop after Christopher Newport will be the University of Denver, where she will pursue a master's degree in health and wellness in the Graduate School of Social Work.
Stump's story is inspiring but it is one of many. Since the start of the semester in August, senior social work students have provided more than 5,000 hours of service throughout Hampton Roads. Each student provides at least 224 hours per semester and most are in-person, literally on the frontlines of the region's COVID response. They serve in hospitals, nursing homes, homeless shelters, courthouses, community mental health facilities and even in the living rooms of families in need.
"I am in awe of what our students are accomplishing," Griffiths said. "They are making such a big difference in the lives of people in our community."
---